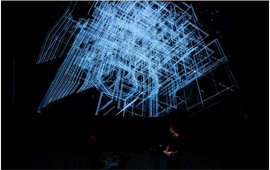 Henry Vega and the 'Wormsongs' Performance at the InnerSound Festival
Friday, 31 August 2012 , ora 12.59

Among the events included in the last day of the InnerSound - International New Arts Festival, there was a unique show by the American composer Henry Vega. The concept Wormsongs is a projection of the idea that life, with the help of technology and creative thinking, will extend systematically in the universe. We are talking about a multimedia show that brought on the stage of Romanian Peasant Museum's Guests Hall, together with Henry Vega - computer, the singer Anat Spiegel and Emmanuel Flores - live video.
The show's purpose is to create an unexpected bridge between the sacred trances of the entertainment and of the "new music", transposing the listener in another dimension, through the hypnotism caused by the minimalist, repetitive music and the video projection. It was a truly special auditory and visual experience, which we asked the protagonists to tell us about:

Anat Spiegel, how would you describe this experience?
It is like a trip. You change your mood; at the end I always feel like I could go on for another four hours.

Could you describe that mood?
It's all about the present and the future, where we head on; the beauty, but also the decadence.

About the show's structure, the composer Henry Vega:
Although it looks like a very electronic show, the sacred music is integrated in the vocal part of the show. Very important was the collaboration with Anat and working with her voice, which is very special. She has experience in classical music, jazz, pop, theatre.

How would you describe this show for those who couldn't come today?
I would say that it talks to everyone, to young and less young people. You can find the beauty of the Italian opera, but also our days' dance music, drum & base, dub step, all of them are inspiring elements, as well as the Gregorian singing and the vocal music from the romantic period. You can find everything in this show.

What is "Wormsongs"?
Through this title I want to say that the future is fantastic. The future will be marvellous, and this work wants to remind the fact that the future will have so much to offer that you will be happy. And the worm itself, I chose it in connection to man's evolution, which is realized, let's say, only in a few climates. However, the worm was found in the deepest waters, deepest earth, but also in the highest, in other things, everywhere. And this type of evolution makes me think about how much the man will evolve. I hope that beyond the stars, on other planets.

Anat Spiegel, do you agree?
No, but this is not important for interpreting the work. My vision of future is not as optimistic, but I believe that this diversity in opinions is a beautiful element of our collaboration.
Andreea Chiselev
Translated by Camelia-Aura Barbu
MTTLC, University of Bucharest