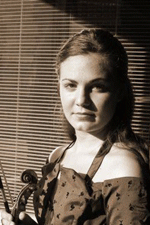 The Ending of the 2012 Magic Summer Festival
Thursday, 30 August 2012 , ora 13.02

The last event during the 2012 edition of the Magic Summer Festival took place on Wednesday, 29th August, the recital being held by violinists Gabriel and Simina Croitoru, accompanied by pianist Clementina Ciucu.

Jewels of the Violin Repertoire
The programme was made up mostly of relatively small pieces, real jewels of the violin repertoire. The beginning of the night belonged to Gabriel Croitoru, who performed for the audience 'Recitative and Scherzo-Caprice' and 'Schön Rosmarin (Lovely Rosemary)', two pieces composed by Fritz Kreisler. If with the first piece we could notice a subtle range of the musical message, the second one stood out because of a delicate sound and a high dose of musicality. Then, it was Simina Croitoru's turn to step on stage, the first part of the recital being divided between the two protagonists who each played pieces two by two. During her performance we were able to hear 'Caprice Viennois' by Fritz Kreisler and the famous 'Meditation' from the opera 'Thais' by Jules Massenet, the latter being without a doubt one of the most anticipated performances of the evening. It followed next a 'Petite Valse' by Fritz Kreisler and 'Salut d'Amour' by Edward Elgar. The ending of the first part belonged to Simina Croitoru who performed with a full, round sound, delicately seconded by pianist Clementina Ciucu, the 'Libesleid' by Fritz Kreisler and 'Hora Stacatto' by Grigoraș Dinicu.

An Impressive Instrumental Technique
The second half of the programme began with Louis Spohr's '3 Concertant Duos for 2 Violins, Op. 67', immediately followed by Henryk Wieniawski's 'Grand Caprice Fantastique, Op. 1'. From the performance of these pieces I've rediscovered the impressive instrumental technique that these musicians have, but I've also seen how important an artist's stage experience is. The last pieces from the playbill of the recital were 'Jota-Navarra' by Pablo de Sarasate and 'Passacaglia in G minor' de G. F. Händel, in an arrangement signed by Johan Halvorsen; with the latter piece we had the opportunity to see Gabriel Croitoru as violist.
The performers had a warm reception from the audience, which made them perform, during the encore, another three pieces: 'Libesfreud' by Fritz Kreisler, 'Zapateado' by Pablo de Sarasate, where we had the opportunity to see Simina Croitoru as pianist and 'Caprice No. 4' by Henryk Wieniawski. These works closed the recital and also the Magic Summer Festival, a summer festival which brought before the audience from Bucharest some of the most valuable Romanian musicians.
Radu Mihalache
Translated by Florina Sămulescu
MTTLC, Bucharest University