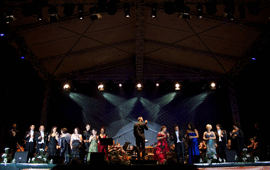 Open-Air Opera in Bucharest
Monday, 3 September 2012 , ora 8.55

The Opera Promenade, which has reached its fourth edition this year, gathered an impressive audience on 1st September. There was a free entrance for all those who love lyrical art.
Ballerina Monica Petrica and tenor Vlad Mirita were the hosts of this concert conducted by Tiberiu Soare where some of the best known opera passages could be heard. Among the soloists who have stepped on the esplanade, together with the Bucharest National Opera Choir and Orchestra were mezzo-soprano Andreea Iftimescu and Emanuela Pascu, tenors Ionut Hotea and Cristian Mogosanu, soprano Adriana Dumitrescu, baritone Iordache Basalic.

Bass Marcel Rosca, guest of honour, declared:
'I'm feeling very good and I would like to perform some more but, unfortunately, my part for the evening has finished. But it was very beautiful.'

Do you like the idea of an open-air performance?
Greatly. I have had certain experiences during my lifetime - I've performed for 3000-4000 people in front of the house where Verdi was born and where he grew up, with the church where he was baptised and where he first played a harpsichord behind me. I know the significance. It's splendid! Just look at this atmosphere!

Young tenor Ionut Hotea, the 2011 soloist of the Bucharest Romanian Opera and winner of the third prize of the 2012 edition of the 'Hariclea Darclee' Competition:
'It is a first for me to perform in an open-air performance, this one, and at the Opera Promenade, the yearly opera celebration. I am honoured that after only one year as a soloist I was able to perform during an event of such grandeur.'
Jeanine Costache
Translated by Florina Sămulescu
MTTLC, Bucharest University