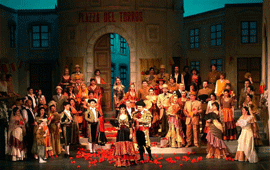 The Open-Air Opera and Operetta Festival in Timisoara
Tuesday, 4 September 2012 , ora 10.44

The Roses Park from Timisoara turned, on Sunday, 2
nd
September, 2012, for a few hours, into a real, 19
th
century Austrian castle court. The operetta
'Die Fledermaus (The Bat)'
by Johann Strauss-son closed the eighth edition of the Opera and Operetta Festival, organized by the National Opera House and the Timisoara City Hall and the Cultural House. The farce of the Bat brought over three thousands spectators in the Roses Park, guests for an evening at prince Orlovski's ball.
The sounds of Strauss's music, accompanied from the audience and the lines sometimes updated to the current political climate were the constants of the evening. Organizing the Opera and Operetta Festival in open-air is increasingly appreciated by the people from Timisoara, and so, for the second year in a row, the event takes place during two week-ends.
*It is extraordinary that everybody who would not normally go to see an opera can come, perhaps like this they start to appreciate it. I like it.
* We have been coming for several years; since its first edition. I think it is a very good idea.
*I see it as a very good idea. And the fact that it has become something permanent I believe it is a good thing for Timisoara. This way, the audience has the possibility to experience other music types that one wouldn't normally experience.
The stage of the Summer Theatre was modified to meet the choreography standards. Build on a leaning plane the stage had to be levelled for the set to be put in place. The first stage of the Festival brought before the audience the operas 'Cavalleria Rusticana', 'Pagliacci' and the operetta 'The Land of Smiles'. The second part of the festival in Timisoara facilitated the encounter with the 'Der Zigeunerbaron (The Gypsy Baron) by Johann Strauss, followed on the second evening by Bizet's opera 'Carmen'. Performed by Ramona Zaharia from the Timisoara Opera House, Carmen was very appreciated by music lovers.
*A very good performance, a good cast...
* I am enjoying this evening's performance, in particular. I have come for the opera and also for the soloist.
* Spectacular! The performers as well as the audience for which my whole respect is at its best.
* - Did you enjoy what you saw tonight?
- I enjoyed it very much.
- Have you been here before?
- Yes, I have seen other performances.
- Here, in the park, or at the opera house?
- Here, in the park.
- Which did you like best? On which night?
- The one from tonight!
The Open-Air Opera and Operetta Festival precedes every year the opening of the season of the Romanian Opera House from Timisoara. This season's premiere is the performance of the opera 'Faust' by Charles Gounod, scheduled for 10th October.
Mihaela Ioncelescu Radio Timișoara
Translated by Florina Sămulescu
MTTLC, Bucharest University