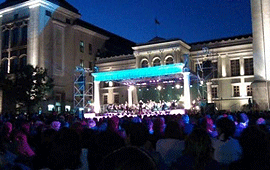 Baroque Nocturne on the Promenade of the National Library
Tuesday, 4 September 2012 , ora 10.48

Here we are once again at the beginning of September and I admit that I remember with certain nostalgia the exact period from last year, when, during the 'Enescu' Festival, I attended concerts every night in the 'George Enescu' Festival Square. Night after night, a new open-air concert, a new atmosphere, all dominated by the same warm vibration with slight autumn inflections.
The 'Baroque Nocturne' Festival, which takes place every night from 8:30 p.m. on the promenade of the National Library, came as an answer to my nostalgia. The festival began on Monday, 3rdSeptember, and on its first evening it brought before us Olivia Iancu on lute, Claudiu Lobont on theorbo, and then, after a literally poetic intermezzo, performed by actress Adina Cristescu, guitarists Maxim Belciug and Tiberiu Gogoanta.
With this type of events, the atmosphere is especially important. And the one on Monday night was as romantic as it can get, even if, up until almost late at night, we listened to baroque music. Even Dambovita took on a new appearance, seeming to reflect the clear shimmerings of the proposed pieces. I'm referring to operas signed by composers like Johann Sebastian Bach, John Downland, Robert de Visée, Georg Friedrich Händel or Antonio Vivaldi, among others.
The four musicians created together a cohesive programme. Even if the evening was divided into two parts, I felt an indestructible connection between the two, the first one preparing the next, the latter maintaining the spell the former created. The intermezzo I mentioned earlier played its part in maintaining the flow of the evening with the recitation, by actress Adina Cristescu, of two Shakespearean sonnets.
The fact that all the chairs were fully occupied and that many sat on the steps of the institution was not surprising. I am fully aware that the people from Bucharest enjoy these types of events. Actually, what can be more enjoyable than to end a work day attending this king of recital?
On the Festival programme-notebook, there is, among other things, a quote from Albert Camus: 'Truly fertile music, the only kind that will move us, that we shall truly appreciate, will be a music conducive to dream, which banishes all reason and analysis. One must not wish first to understand and then to feel. Art does not tolerate Reason.' I think a lot of the people in the audience felt it for themselves.
If you also want to leave behind your inhibited reason so you can start dreaming, you can do it tonight, also during the 'Baroque Nocturne' Festival, when, again from 8:30 p.m., will appear before you violinist Natalia Pancec, guitarist Maxim Belciug and the ensemble 'Nomen est omen'.
Petra Gherasim
Translated by Florina Sămulescu
MTTLC, Bucharest University