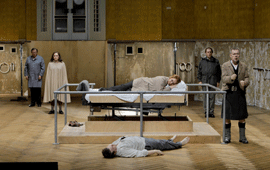 Bayreuth Two - Tristan und Isolde
Tuesday, 11 September 2012 , ora 10.58

If I had any doubts that an overburden sight can inhibit to the point of annulling the act of hearing, I no longer have them, after my recent trip to Bayreuth. I have once seen again two performances which I have given a less than favourable review in 2009. Being totally absorbed almost all the time by the shocking scenes, I did not manage to listen to the music as well. I am talking about
Tristan und Isolde
, direction Christoph Marthaler and the
Parsifal
, which is nowadays famous because of the way Norwegian director Stefan Herheim pictured it. Knowing what to expect, I have managed now to perceive in
Tristan und Isolde
, conducted by the same Peter Schneider - whom I did not fully appreciate in 2009 - the splendour of Richard Wagner's music performed with all its emotional charge, with its sensuality and glamour, wavering between discretion and opulence, between despair and elation.
The Austrian conductor, Peter Schneider, is seventy-three years old and, except for short periods of time, has been involved in the WAGNER festival in Bayreuth since 1981 - he conducted here over thirty performances of Der Fliegende Holländer, Der Ring des Nibelungen (The Ring of the Nibelung), Lohengrinand now Tristan und Isolde. The experience and the wisdom that has come with age helps the artist to search for, find and reveal some of the most profound meanings of Richard Wagner's scores with special appreciation and elegance, believing that music, in and of itself, contains and says everything. The Swiss director Christoph Marthaler is sixty-one years old. He studied music in Zürich and Paris but he then worked as a theatre director. He signs his first opera direction in 1994 with 'Pelléas et Mélisande' at the Oper Frankfurt (Frankfurt Opera). In the following years, among directing numerous theatre performances, Christoph Marthaler finds time to direct some operas until 2005 when he is asked to create a new stage version for Tristan und Isolde.
I stand by my statements made in the 2009 review that the direction and the scenery (Anna Viebrock), being tern and even ugly, did nothing to help the performance: the first act takes place in a bland ship cabin; the second act in an impersonal waiting room where the two lovers, sitting uncomfortably on a bench, voice their ardent love.
In the direction signed by Christoph Marthaler, the last act of the Tristan und Isolde from the 2012 Bayreuth festival, takes place in a horrible hospital ward built as a bunker where Isolde sings her wonderful and heart-breaking death laying down on a metal bed from which Tristan's body just fell, and which lays, lifeless, on the floor. But something which I happily amend is my opinion about the performance of the Swedish performer, Iréne Theorin, a true Wagnerian of today, who also has in her repertoire the parts of Brünnhilde Eva, Sieglinde and Senta. During the past three years, Iréne Theorin's Isolde grew and came into her own, the performer probably getting used to the director's vision - just as I did - and she focused on her musical performance, thus becoming probably the best Isolde of the moment. She performed together with Canadian tenor Robert Dean Smith - an expressive and refined Tristan, Kwangchul Youn - King Marke, Jukka Rasilainen - Kurwenal, Michelle Breedt - Brangäne.
Cristina Sârbu
Translated by Florina Sãmulescu
MTTLC, Bucharest University