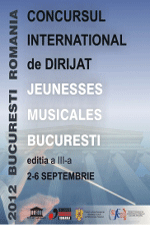 Conducting Competition at the Romanian Athenaeum
Monday, 10 September 2012 , ora 8.56

On Thursday, 6
th
September, 2012, at the Romanian Athenaeum, I took part in an event: the third edition of the Conducting Competition organized by Jeunesses Musicales Romania, the first international edition of the competition, gave us the opportunity to assist not to the Laureates' Gala, but to the Final.
In this final, in front of the Bucharest Philharmonic's music rack, the three finalists performed asserted works, due to which I saw Hyun-Jin Yun, from Korea, who also was presented with the Big Prize, performing alongside Simina Croitoru 'Gypsy Airs' by Sarasate and the first part of Brahms' Symphony No. 6 - he is a promising conductor, I understood that he has already been asked by great masters to rehearse with them.
After that, I watched English man George Jackson performing Brahms and Tzigane de Ravel works, alongside the same soloist, Simina Croitoru.
The third prize went to Chuan Tung-Chien, from Taiwan, who also approached Brahms' Symphony No. 2 in the first part, but also, alongside Simina Croitoru, Introduction and Rondo Capriccioso by Camille Saint Saens.
It was a consistent programme - I presented it backwards, referring to the winners, because the prizes were given in this order - a programme extraordinarily performed by the orchestra, Simina Croitoru making an incredible and very confidently executed effort.
This time, the orchestra offered a diploma to the conductor with whom they worked best, and that diploma was presented to the same Korean laureate. Diplomas were also offered to those who went through to the second round. The three winners will be presented in the next round with concerts at the George Enescu Philarmonic, in Craiova and Sibiu. The jury, whose president was Mr. Horia Andreescu, had a difficult task because the three winners did a very good job. They are just starting, of course, but they have real potential. I would also like to say that Nicolae Licareț, Gheorghe Costin, Octav Calleya, Petre Zbârcea and Marius Cristescu were also in the jury - conductors from all over the country were chosen.
It was a very beautiful night, with standing ovations, flowers and a very big crowd, because the event took place in a wider context, unfortunately too long, so the spectators started to leave. I would also like to say that during the jury's recess, the orchestra performed conducted by a laureate from the first edition, one Gabriel Bebeșelea, who currently works as a conductor at the Iași Romanian National Opera, a very good young conductor, with a real future.
Anca Florea
Translated by Alexandru Neagoe
MTTLC, Bucharest University