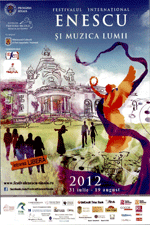 'Enescu and the Music of the World' International Festival Has Come to an End
Monday, 20 August 2012 , ora 8.19

The last chamber music night of the festival which took place in Sinaia came up with a Schubert programme rendered by the pianist Andrei Licareț, followed by the violinist Mihaela Marin, cellist Franz Helmerson and the pianist Steluța Radu- all of them forming an outrageous trio that was appreciated for their unique performance once again.
The following day, at Enescu Memorial House in Sinaia, exactly 131 years since the birth of the master (19th August, 2012), we listened to the Youth Orchestra rendering pieces of work by Enescu, as well as, Bach. The violinist Andra Lucia Andrei, the cellist Ștefan Cazacu and another excellent cellist-- Alexandra Curcă lay at the heart of the performance. They were backed by the pianist Verona Maier and, coming as a huge surprise, by the pianist Cadmiel Boțac, the artist who is expected to play together with Sinfonietta Orchestra at the Athenaeum on Wednesday, 22nd August 2012.
At the end of the festival, the orchestra performed in Bușteni on 18th August and in Sinaia on 19th August, an exquisite concert conducted by Horia Andreescu, presenting a programme based on the works of Mendelssohn, Mozart and Beethoven. The soloist was the exceptional pianist Elisabeth Leonskaja. I would say that the two performances in Bușteni and Sinaia were quite different, something rather unusual for her; however, there was an absolutely spectacular interpretation last night, rendering Mozart in a way that I had not heard for a long time. Despite the fact that its members are between 16-23 years old, the orchestra rose to international rates. There is another breakthrough which is accomplished once more in this edition that concluded successfully on the evening of 19th August.
Marin Cazacu, the art director of this stunning festival, announced for the next year's edition new references to catch the attention of the audience.
Anca Florea
Translated by Sorina Cimpoeru
MTTLC, University of Bucharest