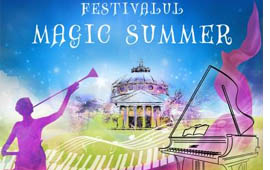 'Magic Summer' - 15th August 2012: Mihaela Martin and Frans Helmerson's Recital
Thursday, 16 August 2012 , ora 8.36

The recital that took place at the Romanian Athenaeum on 15
th
August, had all the traits of a true event. Part of a series of musical events named Magic Summer, organized by Lanto Communication, brought to the Romanian audience world renowned musicians – violinist Mihaela Martin, cellist Frans Hemerson and their guest, pianist Steluța Radu.
'Elegance' was the word of the evening. One could feel the elegance everywhere, from the ambiance to the repertoire. The recital began with one of Joseph Haydn's violin and cello duets in D major (Duo Hob. VI: D1 in D Major). It was not such a spectacular piece, but with the help of its clarity, the musicians managed to build an interesting acoustic entity. It gained a new force of expression which caught the attention of the audience.
It was followed by Zoltan Kodaly's Duo op. 7. Although it was placed in the middle of the show, it was the evening's moment of maximum technical difficulty. Deeply rooted in the 20th century compositional style and permanently evoking the folkloric space through its omnipresent modal element, this duo gave the musicians the opportunity to show their interpretative skills. The permanent play of the instruments was highlighted with subtlety by the musicians, with their carefully executed thematic changes. If the violin always went between a harsher sound which reminded us of the popular fiddle, and a warmer, softer sound, the cello had moments in which it gave the impression that it had replaced a whole orchestra, from a clarinet's timbre provided by the harmoniously high sounds to the impressionistic murmur.
After the intermission, we listened to Franz Schubert's Trio No. 1 in B-flat Major. This was when Mihaela Martin and Frans Helmerson were joined on stage by piano player Steluța Radu. This piece was indeed the highlight of the evening, the most savoured by the audience, which took notice of every gesture and every sound made by the artists. And this concluded the fifth recital of the Magic Summer Festival.
Radu Mihalache
Translated by Chiriță Daniela and Sorina Cimpoeru
MTTLC, Bucharest University