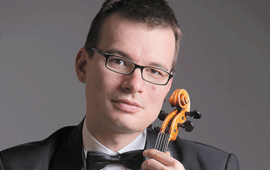 'To be even better than I am now.'
Tuesday, 18 September 2012 , ora 8.43

This is Alexandru Tomescu's greatest obsession. Monday, 17
th
September, the violinist released his newest CD,
Stradivari Obsessions
, which includes pieces that he played during the 2012 edition of the Stradivarius International Tour, meaning Eugene Ysaye's six op. 27 sonatas for solo violin. The patio of the Humanitas Kretzulescu Library was overcrowded due to the large number of people that came to take part in the event. It was a stylish release party, with wine tastings and delicious cheese platters, elements that intensified the elegant atmosphere.
Mihai Constantinescu opened the evening, head of Artexim, who was involved in the planning of the RadiRo Festival, and we must mention that the launch of Stradivari Obsessions was a preamble of the Festival of Radio Orchestras, that will begin on 23rd September. Alexandru Tomescu followed him, with a speech that drew in the audience, as usual. However, the violinist felt that such an occasion would be better off marked by music, so he played a fragment of Ysaye's Sonata No. 2, the one that in its first measures cites Bach's Partita No. 1 for solo violin. Because of this, Tomescu decided to interpret this piece next.
After that, conductor Tiberiu Soare said a few words and Dan Dediu, Chancellor of the National University of Music Bucharest, gave the final speech. Afterward, Alexandru Tomescu gave some autographs, while the wine lovers remained on the patio to enjoy the liquors presented by wine specialist Cosmin Zidureanu.
Composer Dan Dediu and conductor Tiberiu Soare declared at the end of the event:
Mr. Dan Dediu, in your opinion, what is the strong point of this CD? What do you think will surprise the audience?
Well, in the first place, any CD with Alexandru Tomescu's name on it is an event in itself. On the other hand, it is a very unusual mix, Eugene Ysaye's six violin sonatas, which are not played very often, with only a few exceptions; the third sonata is a very popular song but the others, not so much. These sonatas are all very different in terms of music, showing in a way the composer's journey, from playfulness to tragedy, from virtuosity to musicality. I think that the name of this CD, Obsessions, is very fitting because Ysaye's music has a bit of an obsessive component if I may call it that, and it is characterized by increased romanticism.
Now, conductor Tiberiu Soare will answer.
How is the atmosphere this evening?
It is excellent. We have good music, good wine, and most importantly, very good people have shown up for the release party of Alexandru Tomescu's new album, Stradivari Obsessions.
I am assuming you are also talking as someone who has collaborated with Alexandru numerous times, with whom you share a great friendship. How does it feel to be at his side at such a moment?
The experience of having worked with such an artist cannot be transcribed into words. Indeed, I do remember some extraordinary evenings, the Jean Sibelius concert for example, the Ludwig van Beethoven concert, these are all great experiences, but I have to tell you one thing, the night of the concert, which is very beautiful, stirs up that magic that Dan Dediu was talking about in his speech, here at Kretzulescu, but it's also about the days before the concert, full of rehearsals and talks between conductor and musician about the theme of that particular piece, which have often given us new reasons to meditate on and to deepen our understanding of the things that we had read in the score and obviously, I owe it all to Alexandru Tomescu.
Petra Gherasim
Translated by Chirita Daniela
MTTLC, Bucharest University