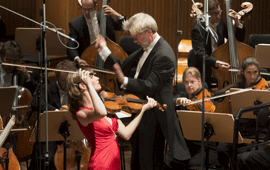 The Beethoven Festival in Bonn 2012 (II)
Tuesday, 18 September 2012 , ora 9.04

This year, the festival began on 7
th
September and it's going to end on 7
th
October. Of course, the highlights of the festival remain the big names: Philharmonia Orchestra in London, conducted by Esa Pekka Salonen will present all of Beethoven's symphonies in five parts between 3
rd
and 7
th
October, the Borodin quartet will present all of the chord quartets, the pianist Andras Schiff proposes ten of Beethoven's sonatas in three nights.
Other projects also catch our eye - as it was the case with the John Cage night - a tribute to the composer who would have been 100 years old on 5th September or the special programmes for the young public, like the two concerts held by the Youth Orchestra of Caracas - a part of the same El Sistema where Gustavo Dudamel and the Youth Orchestra of Venezuela come from.
On 13th September, I took part in the concert held at the Beethovenhalle by the WDR Symphony Orchestra Cologne from Koln, conducted by Jukka Pekka Saraste and having the Georgian violinist Lisa Batiashvili as soloist. The programme: The Bard by Jean Sibelius, The Violin and Orchestra Concert by Beethoven and Symphony No.1 by the same Jean Sibelius. I was curious to see the one who will close the International Radio Orchestra Festival - RadiRo, organized in Bucharest, conducting live. Jukka Pekka Saraste will conduct the BBC Symphony Orchestra on 28th and 29th September.
I would say that the second half of the concert was obviously better that the first one. The Bard isn't a very expressive work, and the first two parts of the Beethoven concert were performed in a very slow tempo:

"I thought: a new Celibidache was born. Lisa Batiashvili was wonderful, but there was a big empty space in the orchestra. You could feel that for some performers of the orchestra it was just like another day at the job - today Beethoven, tomorrow something else. It wasn't Lisa's fault, but the attitude's of the performers."- Ilona Schmiel, the coordinator of the Beethoven festival talking about the evening on 13th September on the Beethovenhalle scene.
I was glad to listen to Lisa Batiashvili - a violinist who surprises with the purity of the sound and, in general, of the intonation, very adaptable and full of courage.
Cristina Comandașu
Translated by Alexandru Neagoe
MTTLC, Bucharest University