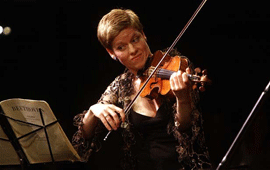 The Beethoven Season Autumn-Winter 2012
Monday, 24 September 2012 , ora 9.12

In fashion - and not only in it - there have been developing the so-called trend offices which make profit by analysing buyers' habits followed by predictions about what colours, materials or shapes will fit the bill for the upcoming season. I read this in a fashion magazine and I expected none of these to linger in my mind; however, on the evening of September 21
th
, whilst listening to the concert performed in Bonn by
La Chambre Philharmonique Orchestra,
conducted by Emmanuel
Krivine,
thesheer thought that this kind of trend agency could take shape in the world of music just stuck me.
Be this true, the conclusion of the most recent reference of the agency would sound like:
"Beethoven's symphonic opuses are sung into an up-tempo way, almost exacerbate!" These agencies' clients would include conductors such as Emmanuel Krivine and Alexander Liebreich (maybe others) - as if united by the bustling thought when interpreting some of the known opuses by Beethoven - on 17th September, Liebreich conducted The Seventh Symphony whilst Krivine presented Prometheus Overture and The Sixth Symphony "Pastorale".
Conducted by Krivine, the instrumentalists of the La Chambre Philharmonique Orchestra are well equipped with vintage tools and one should imagine (taking into consideration past ages reviews) that their technical resources outrun those used in Beethoven's time. Would this mean that even the tempo leads have changed? Is Allegro ma non troppo almost similar with (what used to be) Presto? Moreover, couldn't this mean that the rendering of the storm in the fourth part of the "Pastorale", for instance, can be performed -as many other remarkable musicians prove it - without the double bass dropping his instruments twice due to the incredible speed? (True story: it took place at the same concert, within the Beethoven's Festival).
At the concert held on 21st September, the soloist was the violinist Isabelle Faust, who performed at the Beethovenhalle the Concert in D-major from the works of the celebrated composer whose homage is paid in this period in Bonn. It is my impression that Isabelle Faust wasn't feeling that well as a concert soloist; I do not say that as regards the technical possibilities or the text comprehension, but rather, concerning her attitude which would have been much more appropriate in a chamber concert. The violinist received cheers to the echo and she offered a stunningly beautiful repeat: Sarabanda from J.S. Bach's Second Partition for the Solo Violin.
Irina Cristina Vasilescu
Translated by Sorina Cimpoeru
MTTLC, Bucharest University