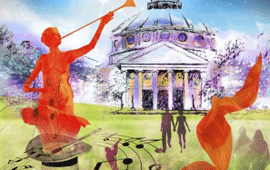 Pianist Andrei Licaret and Arcadia Quartet on The Romanian Athenaeum's Stage
Thursday, 26 July 2012 , ora 9.24

On Wednesday, 25
th
July, 2012, at the Big Hall of the Romanian Athenaeum, a new event - within
The
Magic Summer
Festival
- took place which was organized by Lanto Communication. If the previous meeting had brought on stage a master, the pianist Valentin Gheorgiu, with his guests, this one was dedicated exclusively to the youthful side of the Romanian interpreters. The performers were the pianist Andrei Licaret and Arcadia Quartet.
The programme was composed exclusively of the works belonging to the 19th century music, especially from the first half of it. The recital started with Felix Mendelssohn's Quartet op.13 nr.2 in A- minor;a youth work of the composer, which the musicians from the Arcadia Quartet: the violinist Ana Tőrők and Răsvan Dumitru, the violinist Traian Boală and cellist Zsolt Tőrők, tried to render meticulously. This was followed by Ludwig van Beethoven's Sonata op.28 nr. 15 in D- major "Pastoral", a work performed with intense concentration by the pianist Andrei Licaret.
The acme of the evening was reached in the second half of the recital, when the musicians joined forces to perform Robert Schumann's The Piano Quintet op.44 in E- flat major. From the first until the last tones, they managed to catch the attention of the audience who savoured every moment. This work concluded the second recital within The Magic Summer Festival.
After the concert, the violinist Traian Boala and the pianist Andrei Licaret told us a few things about the event at the Athenaeum.
How would you sum up briefly tonight's event?
Traian Boala: In a few words…or just a word: bliss; in more than one: we are still overwhelmed… It was a very enjoyable experience, the Athenaeum Hall acoustics is very generous, the audience was amazing, very warm and we felt extraordinary.
How was the collaboration with the pianist Andrei Licaret?
Traian Boala: Utterly ideal. I am acquainted with this formula piano - quintet and I find it one of the best combinations; he is a great musician at all points, from the point of view of technique and music.
How would you describe tonight's recital?
Andrei Licaret: It's too recent, it has just finished so it is rather difficult to scrutinize it. I can only tell you that I was really glad to take part in this summer festival which has a devoted audience no matter the weather. I was happy to meet again the Arcadia Quartet with whom I had collaborated for the first time last year. We got along very well, the interaction and communication came naturally and we enjoyed playing together. It is an extraordinary feeling to play special music in such a hall as that of the Athenaeum, accompanied by colleagues with whom you can work very well and the right instruments.
Radu Mihalache
Translated by Sorina Cimpoeru
MTTLC, Bucharest University