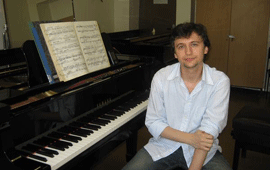 'Tuesday Evening Season' Opening
Friday, 5 October 2012 , ora 9.08

The 'George Enescu' Philharmonic announces the opening of the 4
th
Tuesday Evening Season
with a piano recital by
Sorin Creciun
on the evening of 9
th
October, 2012. The recital is organised in collaboration with Radio Romania Music and it is going to take place in the Small Hall of the Romanian Athenaeum.
In the evening's programme there will be works by Johann Sebastian Bach, Wolfgang Amadeus Mozart, Frederic Mompou and Franz Liszt.
The pianist Sorin Creciun began his studies at the music high school in Chișinău, his home town..He continued his studies at the 'George Enescu' Music High School, class of Constantin Nițu, and a year at the National Music University, class of Sandu Sandrin. From 1999 until 2008 he studied with Professor Georg Sava at Hochschule für Musik Hanns Eisler Berlin.
Since 1999he has been involved in many soloist activities, both in concerts with an orchestra, as well in recitals in European and Asian countries and in the United States. Beneficiary of many travelling fellowships and recipient in international contests, Sorin Creciun collaborated with the Radio Chamber Orchestra (Concerto in Re Majorby Haydn), held concerts at Konzerthaus in Berlin (Tchaikovsky - Concerto No. 1) and concerts with the Brandenburger Symphoniker Orchestra (Prokofiev - Concerto No. 2)
During the Atlantic Tour project he presented piano solo recitals and chamber music in the USA and the Caribbean. In 2007 he participated in the Berlinale International Film Festival, and in 2009 he won the TV competition Pianobattle. Sorin Creciun holds numerous recitals at the Steinway, Schimmel, and Bechstein piano companies.

Translated by Andrei Popescu
MTTLC, Bucharest University