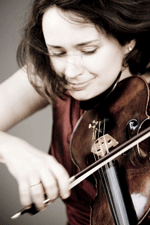 In Search of Rare Sounds
Tuesday, 18 September 2012 , ora 9.15

Monday, 17
th
September, I came to the realization that new, modern music does not attract a large public not even in Germany, at least not in Bonn, at the Beethoven Festival, on Monday evening, when a piece by the Italian composer Salvatore Sciarrino was presented for the first time, as well as the rarely performed
Violin Concerto
by György Ligeti. In the second part of the evening, the Münich Chamber Orchestra performed Beethoven's
7th Symphony
. It was, if you will, a road towards the past, beginning with a piece created in 2012 - "L'ideale Lucente e le Pagine Rubate" - "The Shining Ideal and the Stolen Pages", commissioned by the Bavarian Chamber Orchestra and the Beethoven Festival, endorsed by the Ernst von Siemens Foundation. We then took a couple of steps toward 1993, the year the final version of Ligeti's
Violin Concerto
was recorded, an opus dedicated to violinist Sascha Gavriloff, interpreted for the first time by him in the company of the Ensemble InterContemporain conducted by Pierre Boulez. The evening came to an end with a giant leap back to 1813 - the moment Beethoven's
7
th
Symphony
was first auditioned.
For me, the main attractions of the concert were Ligeti's opus and its interpretation by violinist Patricia Kopatchinskaja, whose performance seemed to contain her experience as composer. Kopatchinskaja plays in a very cerebral, yet at the same time visceral way! Here is a combination you can rarely find in the world of music. The artist encountered skills to match her own in the musicians of the Münich Chamber Orchestra, conducted by Alexander Liebreich.
It is no coincidence that György Ligeti's masterpiece is so rarely performed - Violin Concerto is a fantastic creation, abounding in variety of states and techniques, which I am sure that during its five parts can tire a musician who does not see in this effort a way of re-energizing and perhaps re-inventing themselves…
Patricia Kopatchinskaja plays, the same as all in her "league", a very valuable instrument: a Giovanni Francisco Pressenda violin dating back to 1834 with a splendid sound: bright in the high register and warm like a viola in the medium and low registers. Still, however old or expensive the instrument itself, Patricia Kopatchinskaja is the one who makes it vibrate.
During intermission, I got an autograph from the artist born in Chiºinãu on her latest disk, in collaboration with the Frankfurt Radio Orchestra, the Modern Ensemble and Peter Eötvös. The disk launched by the Naïve recording house, which contains Bartok's Violin Concerto no. 2, "Seven" by Peter Eötvös and Ligeti's Violin Concerto, will be available for purchase at the end of October.
Irina Cristina Vasilescu
Translated by Ioana Ristulescu
MTTC, Bucharest University