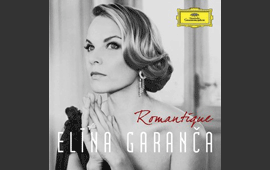 The Romantique Album, with Mezzo-soprano Elina Garanča, Broadcast for the First Time
Thursday, 4 October 2012 , ora 8.04

Recently released in September, this new discographic album represents the young mezzo-soprano's attempt to find a new repertorial direction, consistent with her wish to approach a more demanding repertoire, matching the evolution of her voice, a voice which - in her own opinion - 'has changed, has become fuller, and has gained more vigour'. She is the one who has chosen the musical pieces, the selection including passionate characters, both famous and less known, from operas by Donizetti, Vaccai, Tchaikovski, Saint-Saėns, Berlioz, Lalo, and Gounod.
'The whole album is about love, be it secret, unrequited, forbidden, with a violent ending or leading to an existence doomed to eternal misery', Elina Garanča declares. This is also the reason why she initially planned to title her album Love & Despair, subsequently settling upon the more easily and universally comprehensible Romantique. When listening to the nine arias included on the album, you understand why The Times has called her 'the golden mezzo-soprano', considering her technically impeccable and stylistically immaculate when playing these characters from the Romantic operatic creation.
For the moment, in what regards the Romantique CD, recorded by Elina Garanča in collaboration with Filarmonica del Teatro Comunale di Bologna, under the baton of Yves Abel, you can listen to Charles Gounod's arias, belonging to the operas Sapho, Faust, and La Reine de Saba, broadcast for the first time by RRM. This opportunity is offered to you by the 'O/RA' programme, presented by Ligia Ardelean, broadcast on Sunday, 7th October. However, according to a an older custom, the presenter will come back to this disk - as well as to other recently released ones - during future editions of the programme, in order to include novel recordings sections into every one of them, where possible. For example, in October and November, the programme will also include recordings of soprano Teodora Gheorghiu, tenor Rolando Villazón, mezzo-soprano Joyce Di Donato, baritones Marius Kwiecien and Peter Mattei, as well as bass-baritone Erwin Schrott, broadcast for the first time. So tune in every Sunday between 3 PM and 4 PM, in order to be able to enjoy them, in addition to the other sections in the programme.

Translated by Cristina Firoiu
MTTLC graduate, Bucharest University