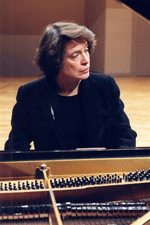 Russia - Vienna - Cologne
Tuesday, 2 October 2012 , ora 9.13

Any occasion to see or listen to Elisabeth Leonskaja brings me great happiness. And two evenings ago - Monday, 24
th
September - I attended the concert which took place at the Cologne Philharmonic Hall, alongwith the pianist's other fans (I was unpleasantly surprised to discover that the hall was only half full).
The recital prepared by the artist for the meeting with the German audience opened with Johannes Brahms's brilliant Sonata no. 3 in F Minor, a creation with a wide blast, very demanding, written in five parts. From my point of view, this first part of the concert was the strong point of the evening; Elisabeth Leonskaja gave an amazing performance, bringing forward, once again, the inner strength and the gentleness that characterize her.
After the break, she returned to the stage with opuses written by Alban Berg (Sonata no. 1) and Arnold Schönberg (from his creation, she played Three Piano Pieces, Op. 11), and in the end she played, alongside Alexei Lubimov, Igor Stravinsky's Concerto For Two Pianos.
In the one-part sonata by Berg, as well as in the Three Piano Pieces, Op. 11 by Schönberg, Elisabeth Leonskaja chose to use a romantic approach, which, in theory, I would not have found to be adequate to the context, but great artists have the gift of convincing us that their interpretation of a song is the correct one.
The Concerto For Two Pianos by Stravinsky - a creation full of elements of virtuosity, rarely featured on the posters of musical institutions, brought the musical evening to a close.
Irina Cristina Vasilescu
Translated by Valentina Banut
MTTLC, University of Bucharest