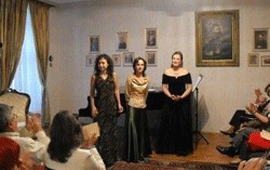 Tuesday evening season at the Romanian Athenaeum
Monday, 22 October 2012 , ora 9.11

On 16th October, at the Small Room of the Romanian Athenaeum, the Tuesday series of chamber concerts held by The George Enescu Philharmonic brought on stage two major representatives from the Brașov School of Singing: the soprano Krisztina Kripko and the mezzo-soprano Emilia Calefariu. During the second concert of the season 2012- 2013, they performed along with the pianist Sena Ducariu, co-répétiteur master at the Brașov Opera. The exceptional pianist balanced out the two pleasant soloists whose youth and stage fright caused a mixture between vocal qualities and their clumsy performances.
The soprano Krisztina Kripko boasts an interesting activity in the field of lied and chamber music. She performed in Brașov, Sibiu, Sighișoara and on the stage of Thalia Theater in Budapest. The mezzo-soprano Emilia Calefariu excels in the Repertoire of Mozart and Bel Canto. She also performed in Brașov and she has recently held concerts in Southern Italy, for instance in Napoli and Terni.
We enjoyed a very well-structured performance: one could revel in the zarzuela interpretation of Mozart, in the usage of lied or in the rendering of Romanian music. I reckon that the errors of technique and intonation made by the two young artists are simply the outcome of stage fright and apprenticeship. There was a shortage of artistic message; both the soprano Krisztina Kripko as well as the mezzo-soprano Emilia Calefariu focussed rather on the correct interpretation of the chosen repertoire which, in the end, outlined that they were out of their depth. The vocal qualities of the two cannot be open to dispute; yet, we strongly hope they will be polished.
Jeanine Costache
Translated by Sorina Cimpoeru
MTTLC, Bucharest University