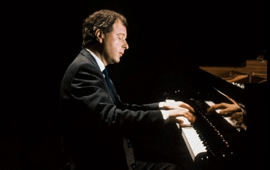 Beethoven times three with Andras Schiff
Wednesday, 3 October 2012 , ora 8.30

András Schiff, British pianist of Hungarian descent, was invited to perform three Beethoven evenings in Bonn. On September 23
rd
, 26
th
and 29
th
, the artist played seventeen of Beethoven's thirty-two sonatas on the stage of Beethovenhalle, choosing to play on the same Bechstein concerto piano that Wilhelm Backhaus used for his tours and his recording sessions.
We listened to sonatas op.2, op.7, the cycle of three sonatas opus 10, sonata op.13 "Patetica", sonatas op.14, op.49, op.22 and op.26, as well as sonatas op.27 and op.28.
András Schiff has somewhat a harpsichordist's way of attacking the score, using the right pedal parsimoniously; he is very balanced and mature in constructing every move, subtle, with a very diversified dinamic palette; his interpretation is always "polite" towards the text in the score. And many of those who came to the recitals - the hall was full during all the three evenings -brought in even various editions of Beethoven's sonatas, watched the music sheets, and at the end, applauded the pianist extensively.
We did not find any tragic tones in András Schiff's Beethoven sonatas. Of course, the emotions were not monochromatic, but we did have the feeling that the pianist had a rather... optimistic vision. Afterwards, I read an interview that Schiff gave to Martin Mayer for Neue Züricher Zeitung, in which the artist, talking about Beethoven's piano sonatas, stated that he had found them full of worldly humour.
András Schiff's energy is amazing: at the end of his recitals, he offered as an encore either one of Haydn's sonatas, or one of J.S. Bach's French suites, sparking even more admiration from the audience.
Irina Cristina Vasilescu
Translated by Chirita Daniela
MTTLC, Bucharest University