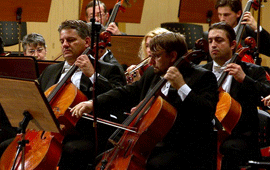 Season Opening for the Musical Ensembles of the Romanian National Radio
Tuesday, 16 October 2012 , ora 9.27

I have great expectations and I`m very nervous. I am prepared to witness a musical feast
- Lavinia Coman, professor at the National University of Music, Bucharest
To me and many others, music is nourishment for the soul. I bow to all the composers and performers who infuse musical values into us.- Priest Zareh Baronian
Full house at the Mihail Jora Concert Hall... The audience is anxiously waiting for the National Radio Orchestra, pianist Luiza Borac and conductor Tiberiu Soare to get up on the stage. Piano Concerto No. 21in C major, also called Elvira Madigen, by Wolfgang Amadeus Mozart, opened the 84th season of the National Radio, with an outstanding performance.
I would use the word fragility, but I do not want to be misunderstood . What I mean is that there is a certain fragility, delicacy to it, and a particular approach to Mozart's compositions.
It seems easily done. You get the feeling that you can sit at your piano and play in the same manner. But you cannot. This is Luiza Borac. - conductor Tiberiu Soare
By performing her own version of the Piano Concerto no 21 by Mozart, Luiza Borac was called back on stage twice and left to standing ovation.
Luiza Borac`s performance was brilliant, graceful, and technicaly masteful. I must say that the National Radio Orchestra sounded wonderful under the wand of maestro Tiberiu Soare. - Alina Botez
The center of gravity of Friday evening`s concert was undoubtedly Carl Orff's profane cantata, Carmina Burana.
75 years after the first audition, the audience still loves this opus for its rhythmic and musical spectacularity, for the auditive imagism Carl Orff used to create Theatrum Mundi.
The choruses were outstanding, the soloists very talented. I hope this kind of events are yet to come. - Ion Țigănilă, pensioner
I witnessed an amazing season opening. It was a lovely concert. Maestro Tiberiu Soare offered us an exceptional, breathtaking Carmina Burana. - Ștefan Pleșu
Lucian Haralambie
Translated by Gianina-Aniela Casleanu
MTTLC graduate, Bucharest University