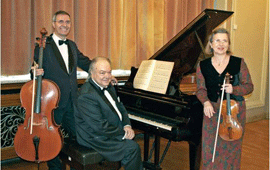 The Three Greats
Monday, 22 October 2012 , ora 9.39

The
"George Enescu" Philharmonic holds a new concert performed by
Trio PRO ARTE
Band on Sunday, 28
th
October, 2012. It is held in the Big Hall of the Romanian Athenaeum, at 7.00 P.M.
Pretty soon after the tour held in Germany, which was a sheer success, the members of the Trio Pro Arte Band - the violinist Andra Petrovici, the cellist Marin Cazacu and the pianist Nicolae Licareț - perform a recital based on the works of the three great Viennese classics Haydn - Trio in A Major, Hob. XV: 18, Mozart - Trio in G Major, KV 564 and Beethoven - Trio in C Minor, op.1, nr.3.
The PRO ARTE Piano Trio was founded in 1978 on the attempt to create a well-rounded and long-lasting unit which was able to professionally interpret the great chamber repertoire. Anda Petrovici, Marin Cazacu and Nicolae Licareț are renowned Romanian soloists. Right from the start, the unity and balance, the individual virtuosity and eloquence, the clarity and the vigour of rendering have outlined their great value. It is an extraordinary feeling to see how three instrumental soloists join company with one another due to the simple joy of singing, despite their strong personalities. What is more, they are able to mould their voices to reach a single tone: new, yet easy to recognize.
Trio PRO ARTE was in tours in Bulgaria, France, Germany, Italy, Portugal, Serbia, Spain and Singapore and it frequently took part in "George Enescu" Festival with a repertoire based on the works of the great Romanian composer and the universal classical opuses. Moreover, the chamber music band made recordings for the Romanian Radio and Television, as well as for Electrecord, BMG Arte Nova Classics and AIX Records.
Starting with 2009, Trio PRO ARTE is the official chamber ensemble of the "George Enescu" Philharmonic.

Translated by Sorina Cimpoeru
MTTLC, Bucharest University