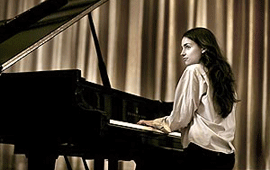 Russian Music at the Cologne Philharmonic
Monday, 22 October 2012 , ora 8.37

One of the things that continue to amaze me at the concerts I go to is the public's reaction to musical events. Not so very often can one foresee whether a certain artist, group or performance will be successful in the public's eyes.
Last night, for example, I attended a mediocre concert at the Cologne Philharmonic and therefore I was convinced that the people attending heard and felt all irregularities of the interpretation held by the State Symphony Capella of Russia from Moscow and by pianist Olga Scheps.
Surprisingly, though, the public applauded and cheered to the echo for this concert which for me lasted an eternity.
Olga Scheps is a young beautiful lady born in Russia in 1986, who has been living in Germany since 1992. She is part of those people from whom great projects are expected. The proof of this fact is the very Echo Klassik award she won in 2010 for "Newcomer of the Year".
Last night she played the very difficult part of Concert No. 2 in C Minor by Sergei Rachmaninoff. Although her talent was visible while performing, I felt like she lacked the inner strength, the gravity and also the spryness one needs in order to have a fair rendition of this concert.
The Cologne Philharmonic Hall has an amphitheatre curved-style, the stage being surrounded from almost all angles. Theoretically, with this kind of architectural structure the sound should be well heard even in the last rows but last night I felt that the piano performance lacked power. It may also be that the rich hand gestures of the pianist interfered with the quality of interpretation - her moves may be impressive for the eye but in most cases they are of no use.
In the second part of the evening we listened to the Seherezada orchestral suite by Nikolai Rimski - Korsakov which was, as I have said, mediocre.
While being played, I had the feeling that conductor Valery Poliansky was whether not very familiarized with this particular piece as his eyes did not leave the score for a second, or he did not care that the accompaniment was sometimes uncomfortably louder than the melody. From the intonation I had the feeling that his solos were not very precise as sometimes the wind instruments chose to reproduce other rhythmic formulas than those noted on the score and sometimes the harp started too late.
It's "good" that all these details passed unnoticed and the concert was finally a success!
Irina Cristina Vasilescu
Translated by Angelica Tapoca
MTTLC, Bucharest University