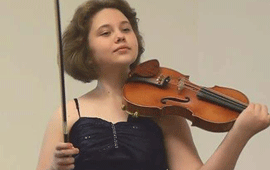 23rd October - Tuesday Evening Season at the Romanian Athenaeum
Wednesday, 24 October 2012 , ora 11.22

On Tuesday, 23
rd
October, now in its fourth season, the series of chamber concerts held by the "George Enescu" Philharmonic presented a recital of the young violinist Mălina Ciobanu. The third night of the season 2012 - 2013, brought forth a numerous audience, which was almost too large for the Small Hall of the Romanian Athenaeum. However, as already mentioned in the brief presentation of the show, the audience could enjoy a "spectacular recital" based on a meticulous selection of the most exquisite works.
Mălina Ciobanu is still a student at "Octav Bancilă" National Arts College in Iași. She boasts an important activity in music with great performances in Iași, Bucharest and even Salzburg. She has blossomed near the pianist Verona Maier increasing the audience's interest from one music piece to another.
After a rather shy start with Mozart's Sonata in E Minor - although the audience did applaud between the parts and even between the variations of the "Carmen Fantasy" - Mălina Ciobanu illustrated her talent in handling the violin bow by performing Nicolo Paganini's Caprices No. 17 and No.24, Antonio Bazzini's Scherzo Fantastique and Pablo de Sarasate's works. Apart from virtuosity, she diffused sensibility, expressivity and a warm, vibrant tone through the rendering of Ciprian Porumbescu's Ballad.
The young violinist Mălina Ciobanu's performance drew enthusiastic applause. We look forward to further interesting shows.
Jeanine Costache
Translated by Sorina Cimpoeru
MTTLC, Bucharest University