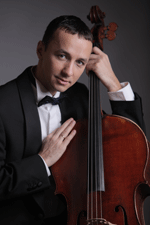 The end of the second edition of 'Do you like BACH?' national tour - on the Radio Hall stage
Monday, 29 October 2012 , ora 10.59

The cello player Răzvan Suma, accompanied by his Maucotel-Fournier vintage instrument, made in Paris in 1849, has started off again between the 2
nd
and the 30
th
of October, to play and delight the audience in nine Romanian cities (Iași, Botoșani, Hunedoara, Satu Mare, Cluj-Napoca, Timișoara, Râmnicu Vâlcea, Craiova, Sibiu) asking the music lovers the question that was the theme of his national tour's second edition: '
Do you like BACH?'
. The concert halls were packed with spectators who gave ripples of applauses for the virtuosic and delicate performance of the first Romanian artist who performed for the first time (in March 2012) in a single concert, the complete solo cello suites signed by the great Bach.
Wednesday, November the 7th, at 7 o'clock PM, in the capital's Radio Hall, Răzvan Suma will end his national tour with an extraordinary concert of Goldberg Variations, a rarely played score in Romania, performed with three string instruments. Along with Răzvan Suma and his cello, you'll be listening to two other famous international artists: the violin player Corinne Chapelle, who studied with the famous Yehudi Menuhin - George Enescu's disciple - and Răzvan Popovici (viola), the founder and manager of the SoNoRo Festival.
Published for the first time in 1741, the Goldberg Variations as one of the universal musical patrimony's compositions signed by the great Johann Sebastian Bach, consist of an aria with 30 variations, a suite of valuable musical works , performed all over the world in numerous variations of interpretation. Designed for harpsichord, the Goldberg Variations have been freely processed by many performers who modified either the instruments or the notes or even both, instruments and notes equally. The transcription of the Goldberg Variations for three string instruments will be performed during the "Do you like BACH?" national tour and has been created by Dmitry Sikovetsky.
For further details on the national tour - "Do you like BACH?" - please access the website: www.razvansima.com

Translated by Marcela Zorland; Valentin Tepes-Paleu
MTTLC, Bucharest University