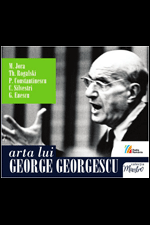 The second CD released by the Radio Hall Publishing House
Monday, 29 October 2012 , ora 8.14

At the beginning of this month, the opening of the 2012-2013 season of the Philharmonic of Bucharest meant also the release of the first compact-disk from the series '
George Georgescu's Art'
. On Friday evening, the 26
th
of October, in the studio's lobby 'Mihai Jora', it has come the presentation moment of the second album from the above mentioned series. With the occasion of the 125
th
celebration from George Georgescu's birth, the project - belonged to the Radio Hall Publishing House - has given life to a series of valuable recordings coming from the Romanian broadcasting archive, on the first CD being found exclusively Beethovenian opuses and on the second one - Romanian musical works.
Among the works that compiled the 'George Georgescu's Art' new CD are included selections from works like Mihail Jora's Suite 'Moldavian Views', the George Enescu's First Romanian Rhapsody or Theodor Rogalski's 'Three Romanian dances' but also scores less known to the wide audience as is Paul Constantinescu's choreographic symphony - 'Union'. The recordings were selected by the composer Paul Bentoiu and they dated from 1958-1963 period. Among the orchestras that performed these recordings, are found The National Radio Orchestra, The Bucharest Philharmonic as well as Russian State Symphony Orchestra.
With the occasion of the new album's release the musicologists Valentina Sandu-Dediu, Viorel Cosma and Grigore Constantinescu took the floor and invited the audience to listen to this compact-disk with historical value through which could be discovered George Georgescu, one of the most valuable Romanian musical personalities who was forever included in the most remarkable conductors' pleiad of the 20th century.
PhD. Valentina Sandu-Dediu declared: 'My generation and younger generations have only met George Georgescu through recordings and articles of some famous inter-war chroniclers. They had a vision of him; they knew how much he meant for the Romanian performing art and also how much he meant for the Romanian composition contemporary to him. The selection from the CD is a very attractive one.'
PhD. Grigore Constantinescu states: 'The whole program dedicated to the development of this conductor's remembrance is interesting, as he served the music with all the resources of the baton and orchestra. Actually, George Calinescu says that George Georgescu "is playing orchestra". This second CD brings into the light a few of the Romanian musical masterpieces of the last century. We find names forever written in the golden Romanian art's book. The achievements are impressive. This CD becomes an anthology, a remarkable musical selection proving that over time, great names have gained prestige and a well deserved place in the Romanian art's pleiad.'
Alexandra Cebuc
Translated by Marcela Zorland
MTTLC, Bucharest University