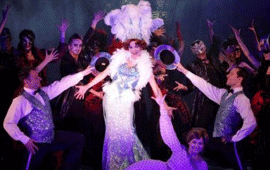 How the first show of the 'Life is Beautiful' Festival went
Friday, 9 November 2012 , ora 9.39

The fifth edition of the
'Life is Beautiful'
Festival, organized by The National Operetta Theatre 'Ion Dacian', debuted on 8
th
November 2012, at the Odeon Theatre. Given the precarious conditions determined by the absence of premises, the director Răzvan Dincă announced at the opening that the new premises, in which the sixth edition is to take place, as he promised, shall be ready by next year.
The opening show that took place at the Odeon Theatre in Bucharest offered a concert including operetta arias and scenes in the first part, and musical in the second. A few significant artists of the Operetta performed, but also some guests from Hungary and Austria. Without getting into detail, the orchestra led by István Silló from Budapest generally sounded good.
The stage direction, belonging to Răzvan Dincă, and the lights contributed to the pleasant atmosphere, together with an inspired décor. We listened to pieces from 'Judita', 'Gräfin Mariza', 'Die Fledermaus', 'Silvia', but also cabaret, the musical 'Les miserables', which is announced to be enacted during the next theatrical season, followed by 'Elisabeth' and a few other musicals that don't appear in the repertoire list, next to 'Romeo and Juliet' and 'Rebecca', which have been blockbusters for two or three seasons now.
Beautiful voices, an agreeable coreography, good artists. What bothered me, I have to admit, was the fact that the operetta, as well as the musical fragments, were sung using a microphone. I don't find it normal, especially with the orchestra being on the stage, because, first of all, the audience cannot listen to the voices at their real capacity. On the other hand, the performers, the soloists, get used to singing using the microphone and it is then that it becomes a real problem, particularly because the majority are nice voices that I have heard singing very well over time, without resorting to a microphone.
It is an issue I have been reluctant about for a few years now; I see the same presentation modality has been kept. But leaving behind such reluctancies, it has been a nice evening, with a full hall. Seventy various manifestations are announced to take place by 18th November, ranging from folclorical shows focusing on Grigore Leșe to operetta shows from abroad. All in all, there was a prolific outset on the 8th November.
Anca Florea
Translated by Marcela Zorland and Mădălina - Elena Marin
MTTLC, Bucharest University