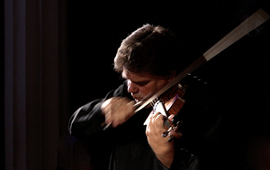 Enescu's Violin at the Radio Hall
Friday, 2 November 2012 , ora 9.43

The Romanian Radio Broadcasting Company celebrated on Thursday, November 1
st
, 84 years of existence; to mark the occasion, they held a recital entitled 'Enescu's Violin', which starred violinist Gabriel Croitoru and pianist Horia Mihail. This recital also marked the end of the tour 'Enescu's Violin For the Villages', an unconventional musical journey during which
Gabriel Croitoru
, the Guarneri del Gesù violin and pianist
Horia Mihail
delighted the audience in eight villages in the North, East and South part of Romania.

What are the impressions violinist Gabriel Croitoru was left with at the end of this tour?
The tour had a great impact on the audience, an unexpected impact which we hadn't dared hope for. There were both many adults and children eager to listen to this genre of music. Of course, the general atmosphere was not the same as the one this evening, as the venues were not actual concert halls, but rather community centres; in spite of this they attended happily and I believe that by the end of our performance we left a favourable impression on them.

When asked about a possible second edition of the tour, pianist Horia Mihail answered:
'We took the decision to organise a second edition as soon as we started the tour, at the end of the first day, after holding two concerts in Botoșani county, namely in the small town George Enescu was born in and in Bǎlușeni. After seeing the large number of people attending and their enthusiasm, I told myself it was a good decision to be a part of the tour and that there was most certainly going to be at least a second edition, if not more than one.'
The recital opened with pieces by Fritz Kreisler: Liebesleid, Liebesfreud, Tambourin Chinois and Caprice Viennois, followed by Zapateado by Pablo de Sarasate and Erward Elgar' Salut d'amour, all short pieces filled with wonderful atmosphere, virtuosity and elegance; the first part of the recital ended with a well-known opus by Pablo Sarasate- Zigeunerweissen (Gypsy Airs). Gabriel Croitoru and Horia Mihail had the opportunity to showcase their expressiveness and musical sensitivity by playing the Sonata in A Major for Violin and Piano by Cesar Franck, which was presented during the second part of the recital, while the evening ended with an encore of Fritz Kreisler's Viennese March.
Since Thursday, November 1st was the celebration of the Romanian Radio Broadcasting Company's establishment, we asked the two musicians to tell us what this institution meant for them:

Pianist Horia Mihail: 'I wish to congratulate both our national radio and its listeners on this occasion! Right now, Radio Romania is like a family to me, a big and dear one and even more so because I have many beautiful childhood memories about it; my 1983 debut in Bucharest with the orchestra was in this very place, the Radio Hall, a concert during which I was on the same stage as Gabriel Croitoru- although not at the same time; we were accompanied by the National Radio Orchestra and conductor Iosif Conta at the time. Since then so many other beautiful things have happened here and I hope many more will and I wish to be part of them, either actively or as a member of the audience.'

Violinist Gabriel Croitoru: ' For me the Radio remains one of the institutions where I began my career as a concert violinist, here I had my first important concerts and here I recorded for the first time; I wish all those who enjoy this job could have the opportunity to play with the same kind of enjoyment we've had until now.'
Andreea Chiselev
Translated by Marcela Zorland Andrei Mihaela-Cristina
MTTLC, Bucharest University