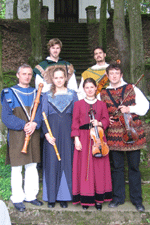 6th November - Tuesday's night season
Thursday, 8 November 2012 , ora 9.46

The concert series continued on 6th of November 2012, at the Small Hall of the Romanian Athenaeum, with a recital of early music performed by Codex Band. Specialized in the authentic interpretation of baroque and renaissance music using vintage instruments from Transylvania and Europe, Codex Band has an alternative geometry, from three to eleven members, according to the chosen repertory. With their highly appreciated performances in concerts and festivals in the country and abroad, the ensemble from Cluj brings together an audience passionate about this kind of music.
Three of the instrumentalists of the early music band- Codex Trio Filip Ignac -have performed during their fifth concert within 'Tuesday's night season'. The three musicians entitled their recital 'Variations and ornaments in the baroque music' including works of Georg Philipp Telemann, Riccardo Rogniono - Thomas Créquillon, Codicele Căianu, Arcangelo Corelli. The vintage-instrument performers: Filip Ignac Csaba - right flute, Cristian Paul - harpsichord and Lazar Zsombor -baroque cello, have brought multiple variations to their performed works with the help of the technique so called diminuzio or diviso- division. Thus, Filip Ignac, the leader of the group, explained that: 'a musical work existing already becomes a new creation' through these techniques of improvisation, variation and ornamentation.
Alongside their guest, Alina Nauncef who played baroque violin, the members of the early music band Codex Trio Filip Ignac ended the evening with Antonio Vivaldi 's 'G minor concert'. The mentioned musicians offered a full picture of these techniques of ornamenting the German, Italian and Transylvanian baroque with styles' knowledge and instrumental virtuosity.
Jeanine Costache
Translated by Marcela Zorland Andreea Mesescu
MTTLC, Bucharest University