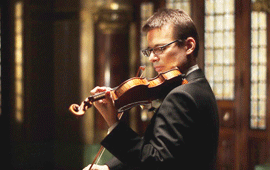 Alexandru Tomescu and the National Radio Orchestra
Thursday, 8 November 2012 , ora 9.27

On Friday, 16th November, at 07.00 PM a refined concert will be held at the Radio Hall in Bucharest and will bring on stage the famous violinist Alexandru Tomescu and the German conductor of the National Radio Orchestra, Gerd Schaller. The festive programme is based on the Italian repertoire: Rossini, Paganini and Tchaikovsky's
Capriccio Italien
.
The concert starts with the overture of "Wilhelm Tell", one of Rossini's last works - yet the most popular - which is often present in movies such as in Stanley Kubrick's The Clockwork Orange, or on radio and TV broadcasts. The overture is based on Friedrich Schiller's play (whose plot describes the adventures of the Swiss folk hero of the 14th century) and it starts with a sonorous description of the Swiss landscape, followed by the rendering of a terrible storm and evoking the music of the Tyrol. The final part emphasises the arrival of the rescuing Swiss army.
The programme will continue with two concerts signed by Nicolò Paganini: Concerto for Violin and Orchestra No.1 in D Major and Concerto for Violin and Orchestra no.2 in B Minor. Paganini is a beloved composer and notorious violinists appreciate him for the quality of his works in achieving the acme of virtuosity. The celebrity of Concerto No. 2 lies in the finale, based on La Campanella theme.
Tchaikovsky's Capriccio Italien will end an evening of joy in the music world. The orchestral poem was composed in 1880 and it was the outcome of the composer's impressions from a trip to Rome. It represents "[…] the creation of a work full of substantial effect, due to the concatenation of joyful melodies which I have stored in my memory; some were found in song books, some were heard in the street." This was the artist's confession from a letter addressed to Nadezhda von Meck.
Tickets are available on www.bilete.ro, at the Romanian Post offices marked with Bilete.ro and at the Radio Hall Box Office.

Translated by Marcela Zorland and Sorina Cimpoeru
MTTLC, University of Bucharest