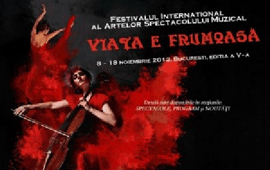 Festival 'Life is Beautiful' begins
Tuesday, 6 November 2012 , ora 10.17

The press conference held at the National Library Auditorium by Răzvan Ioan Dincă, the director of the National Operetta Theatre Ion Dacian, Alin Moldovan, artistic director, and Ofelia Stanciu, logistics manager, announced the opening of the " Life is Beautiful" International Festival. The musical program will run between the 8
th
and 18
th
November. The event has come to the fifth season and it is an anniversary edition that brings together the cream of the crop of musical performances for 11 days.
The festival has been already preceded by the concerts of Old Fish Jazzband to be followed by operetta or musicals galas and shows, fado concerts, cabaret, old Balkan music, religious and classical music. The organizer of the festival, Ion Dacian Theatre , along with theatres in Iași, Timișoara, Constanța and other prestigious institutions of St. Petersburg, Budapest, Kiev have made the well development of the festival possible.
As in the previous editions, the musical program is accompanied by other various activities such as conferences, book releases, exhibitions and artistic workshops. The traditional evenings are to present some of the national particularities of Portugal, Russia, Hungary, Ukraine, Slovakia and Germany. The activities take place in Bucharest. The premises are the Radio Hall, the Nottara, Odeon, Metropolis and Țăndărică Theatres, the National University of Music and the Palace Hall. Future editions will be probably hosted at the new building of Ion Dacian National Operetta Theatre. According to the director Răzvan Dincă, the theatre is already under construction.
Larisa Clempuș Larisa
Translated by Marcela Zorland and Sorina Cimpoeru and Oana Puiu
MTTLC, University of Bucharest