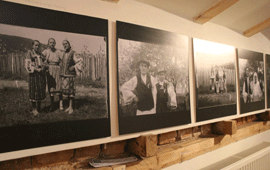 The exhibition 'Lipatti between worlds'
Thursday, 8 November 2012 , ora 9.51

The exhibition is organized as part of the second edition of « Lipatti Days» Festival. You may be wondering why this title was chosen for the exhibition. Well, first argument is that it was hosted by
Aiurart
, an unconventional room, devoted to the image of beauty, but in an unique and original way which breaks the norms and constraints. A second argument can be found in the combination of the 24 black and white photos found in Lipatti family archives, with interactive sound system and video projections, designed by composer Catalin Cretu. The combination illustrates the fusion of old and new, between what is frozen in time and what is alive, between silence and sound, between what is hardened and what is in motion. These things better illustrate the fact that geniuses like Lipatti are immortal, they are omnipresent and they actually remain in the minds and hearts of those who appreciate them.
I was glad to see a lot of people beeing present at the exhibition. Everyone was delighted to rediscover Lipatti in a festive atmosphere. We were all served with tea, pretzels or apples and we talked about what Lipatti means for Romania. We met Francis Mraz, the photographer, who also supported «Lipatti Days» two years ago, when another photo exhibition had taken place. I met photographer Gyuri Ilinca too, the one whom we should be grateful to because he finally accomplished the difficult process of transformation of the glass negatives in the photographs from the exhibition. They both are lecturers at 'Francis Mraz' Photographic Poetics School.
Photos help us reconstruct somehow the life Dinu Lipatti lived. I say 'somehow' because it certainly doesn't waste the mystery that surrounds the pianist, who had such a short appearance in this world. The exhibition does not crush Lipatti's " wonders' corolla of the world", who is revealed to us as much as we need to be forever enchanted by the pianist's unique way of giving life to music. Cellist Laura Buruiana was also present there and she held a recital of Bach's works, after which I asked her:
You are a cellist, so what does pianist Dinu Lipatti represent to you?
"First of all, he represents the pianist who performed Bach the best, from my point of view. His records are great. "
If you want to listen to an opinion, we have here the one of the TV producer Joanna Drăgulinescu:
"The project entitled «Lipatti Days» of this year is a very complex one. It includes many adjacent projects and I believe that the idea of an exhibition, which includes Dinu Lipatti's photos, is awesome. You can discover a different artist in Dinu Lipatti, an artist you wouldn't think of when you listen to his famous interpretations. What Mr. Francis Mraz did by recovering these unique pictures was really invaluable because I think that just a few fans of Dinu Lipatti knew he was also a devoted photographer. We should think that in those days, it wasn't quite simple to take pictures It was so different from the digital photography we have these days. I think that Lipatti project is one of the most important and interesting projects of this year and I hope that the team in charge with the organisation will have enough inspiration and resources to go on with this."
I would shortly and unconventionally conclude with the statement of Aiurart co-founder, Alex Radu:
"Here, at Aiurart, we try to bring together as many as possible forms of artistic expression. We try to bring audience related to these various forms,therefore we try to organize this kind of exhibitions that addresses, let's say, to a musical public, although it is a contemporary art space."
The exhibition is held at Aiurart Gallery in Bucharest, 21th Lirei Street, from Monday to Saturday, between 3 and 7 o'clock p.m. Free entrance.
Petra Gherasim
Translated by Marcela Zorland and Sabina Cirnu
MTTLC, Bucharest University