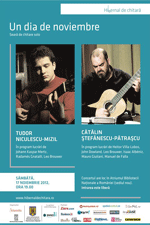 Solo Guitar Night at the Traditional Guitar Winter 2012
Tuesday, 20 November 2012 , ora 13.48

Solo guitar music had its own night, 17
th
November, within the Traditional Guitar Winter show, which started a week ago in the new headquarters of the National Library in Bucharest. That was when the myth of Orpheus, the owner of the enchanted lyre in Greek ancient times, was transposed to contemporary music by two classical guitarists -
Cătălin Ștefănescu-Pătrașcu
, professor at the National University of Music in Bucharest and
Tudor Niculescu-Mizil
, a young musician whose name is becoming ever present in concert line-ups. What constituted a surprise of the second night of the Traditional Guitar Winter show 2012 was
Serghei Manaf
, a student at the Conservatory in Bucharest, who opened the two recitals with a few songs that ranged from the lyrical to the temperamental.
The performance of the two guitarists, entitled A Day in November, which reminds of the eponymous composition by Leo Brouwer, brought various sonorities to the foreground - melancholy and contemplative ones in Johann Kaspar Martz's Elegy, samba rhythms combined with jazz harmonies in Radames Gnatalli's Brazilian Dances or passionate sounds - in the variations on Francisco Tarrega's Aragonese Jota. All of these were played by Tudor Niculescu-Mizil. Cătălin Ștefănescu-Pătrașcu, in his turn, offered a programme which combined scores by Spanish, Cuban and British composers - with the music taking stunning shapes which alluded to either elegance and nostalgia - in John Dowland's Lachrimae, Manuel de Falla's Homage to Claude Debussy or Leo Brouwer's A Day in November, or virtuosity - in studies by Heitor Villa-Lobos or Isaac Albeniz's Asturias, and strong contrasts - in Grand Overture op.61 by Mauro Giuliani.
The musical stories within the Traditional Guitar Winter show will continue next Saturday, 24th November, with a recital of guitar duets, chosen from Renaissance and Baroque music.
Alexandra Cebuc
Translated by Irina Borțoi and Elena Daniela Radu
MTTLC, Bucharest University