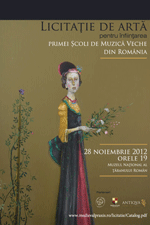 Art Auction for the Opening of the First Early Music School in Romania
Monday, 19 November 2012 , ora 13.57

An art auction will take place at the Romanian Peasant Museum (the 'Horia Bernea' Studio) on Wednesday, 28
th
November, 2012, at 7 PM, with a a view to raising money for setting up and equipping the first early music school in Romania. The auction will include 36 works of art by famous contemporary Romanian artists. The Early Music School, the first of its kind in Romania, will open at the beginning of 2013 and is an initiative of Antiqva Association and Medieval Praxis Agency.
The event is meant to encourage the training of a new generation of artists specialising in early music, and, at the same time, the education of an informed audience. The Early Music School is necessary to complete the educational and artistic offer in Romania, where early music can hardly be found in the curricula of educational institutions, especially at secondary level, in spite of the audience's real interest in this music genre.
The funds raised during the auction will be used for buying early music-specific instruments, music scores, and theoretical works which will be made available to students, for study and research. Scholarships will also be granted to worthy students in financial difficulty.
The works of art are created by some of the most important contemporary Romanian artists. The auction's catalogue can be consulted at this address:
http://www.medievalpraxis.ro/licitatie/Catalog.pdf
The Early Music School, the first of its kind in Romania, will open at the beginning of 2013. The courses will be delivered by professors trained at the best music schools in Romania and abroad, who also have a lot of teaching and concert experience. The early music courses for children are aimed not only at very gifted children, mainly interested in performing at professional level, but also at those who do not necessarily want to pursue a musical career in the future, being only interested in achieving solid musical knowledge. Besides the educational offer intended for children, the school will also offer courses for adults: musical performance courses, as well as orientation courses on early music listening, at both individual and group level.



Translated by Cristina Firoiuand and Elena Daniela Radu
MTTLC graduates, Bucharest University