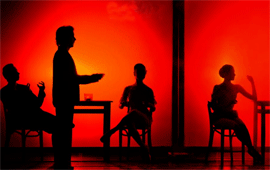 The International Music and Dance Festival in Constanța Comes to an End
Tuesday, 13 November 2012 , ora 8.07

The latest edition of the festival - organized by the
"Oleg Danovski" National Theatre of Opera and Ballet
in Constanța - ended on 11
th
November, 2012.
In fact, there were two special performances that ended the festival: there was the opening night of 'L'heure d'or de Paris' on 10th November - a musical collage made up of creations of great French composers from Massenet's compositions to chansonnette and many more; Horațiu Cherecheș signed the direction, the choreography and the art direction. The first part started with a game of contre-jour shadows projected on panels either in blue or red light, with a classical choreography that presented few means of expression, whereas in the second part we saw a different kind of Paris, inside a café, where vocalists performed along with the same ballet dancers, in various combinations, only to end with the famous bolero, keeping with the idea of en pointe moves that offers the well-known rotations of classical ballet. The vocalists were Bianca Ionescu, Daniela Vlădescu and Marius Eftimie who mostly sang chansonnettes, which the audience enjoyed tremendously.
On 11th November there was a concerto followed by a full-fledged ball. The concerto conducted by Adrian Morar had a few guests and a varied repertory which must have pleased the audience. I even noticed a few remarkable soloists: tenor Marius Manea whose voice was of remarkably good quality after his comeback, excellent soprano Dragana Radakovic from Serbia, the very good, almost excuisite soprano Laura Dumitru Eftimie, tenor Alfredo Pascu, in great shape as well, along with Ștefan Ignat or Elena Rotari. It was a varied, very accessible and well sung opera programme, played by a wonderful orchestra.
There followed a ball in the foyer, with evening gowns and tuxedos, so the festival ended on a very pleasant note. The festival comprised events programmed over the course of almost one month and which enjoyed great success with the audience, with full halls, and therefore one can say that this has been a successful one, addressed to an audience that begins to like ballet, opera and operetta once again, that is to come closer to the genres proposed by the Opera in Constanța.
Anca Florea
Translated by Irina Borțoi and Elena Daniela Radu
MTTLC, Bucharest University