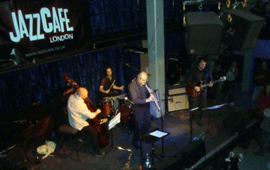 Nicolas Simion Group at London Jazz Festival
Monday, 19 November 2012 , ora 10.02

The saxophonist Nicolas Simion and his band have recently given a recital at the London Jazz Festival. Our reporter in London, Dan Vasiliu will offer us more information about this performance and about Nicolas Simion Group:
The first of them is Martin who, unshaven and with a blue tarboosh on his head, seems to be the type of person you wouldn't want to meet in the street at night, which happens when you hear him playing the harmonica. Next to him there is Angus - who has cornrowed hair, a black wide-brimmed black haton his head and white shoes; his guitar playing style seems to be a mix of Bob Marley, Michael Jackson and Jimmy Hendrix but with different beats. A little bit further, in a corner of the stage, Benjamin seems to be a movie gangster...with his hair swept-back and clean-cut cheekbones, he gives you the impression that he wants to beat up over and over again... They aren't alone. A tall gentleman, dressed all in black is watching them. Although white - haired, he is full of energy and wants to prove it. When being with them, he moistens his lip as if he was tasting an ice-cream, and then he plays the sax giving you the impression that his venae from his right temple is about to burst. He is Nicolas Simion, and together they they are the members of a quartet that brought the sound of Transylvania to London.
"Our traditional folk music is very rhythmical, melodic and has something like...a dance cadence in it. So, those happy or sad songs have something that makes you feel alive. Firstly, we try to attract people and offer a positive image through the music we play, to those who haven't visited Romania or Transylvania and know the places only from films, books, or hearsay."
This is not the first time when Transylvanian rhythms are heard in London. Two years ago Nicolas Simion made the audience dance. Now the effect would probably have been the same if the atmosphere at the jazz festival hadn't created a profound feeling, even if the members of the band were all replaced .

You have a multinational band. How do you manage to convince your band colleagues to feel this Transylvanian spirit?
"Fine. Sometimes it works, sometimes it works less. Music is the secret that holds them together. You don't need time to convince people to feel it and to add something personal."
Do you have something in mind when you compose these Transylvanian rhythms, do you think about a certain event, region or a certain person?
"Yes and no. There are songs that I fixed and whose original tune I keep. There are songs from which I copy only the rhythm after which I compose a folkloric song, or abstract songs, which automatically have a little touch of popular music. Having grown up in a traditional folk music environment, somehow it's inside me, in my blood. It lives inside me and I can't write music otherwise. In the end, you feel the Romanian music no matter how much I try to write abstract and traditional jazz music. "

Translated by Andreea Mesescu and Elena Daniela Radu
MTTLC, Bucharest University