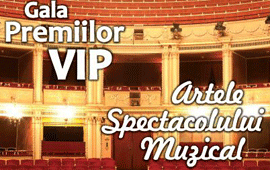 The VIP Musical Performing Arts Awards Gala
Wednesday, 21 November 2012 , ora 10.28

On Monday, 19
th
November, the Bucharest National Opera House hosted the Musical Performing Arts Awards Gala, an event organised by
VIP Magazine
and the Amfiteatru Foundation, reaching its fourth edition this year. Included into the Musical Performing Arts Week Festival, the gala presented the audience important artists of the Romanian lyric scene, as well as influential cultural personalities of 2012.
The awards given during the event hosted by soprano Irina Iordăchescu and actor Eusebiu Ștefănescu covered three sections: 'Opera', 'Operetta and Musical Comedy', and 'Special Awards'. Among those who went on stage to give the awards were the following: Constantin Chiriac, director of 'Radu Stanca' National Theatre in Sibiu, soprano Ozana Barabancea, music critics Grigore Constantinescu and Costin Popa, actors Cosmina Stratan, Ilinca Goia, and Vlad Rădescu, as well as drummer Ovidiu Lipan Țăndărică. The evening's programme also included musical and ballet acts.
VIP Magazineoffered 22 awards in total: as regards the 'Opera' section, the Best Debut Award was won by soprano Edith Borsos,tenor Cristian Mogoșanwon Best Male Soloist, soprano Madelaine Pascuwon Best Female Soloist, while the Best Direction Award went to Mario de Carlo, for the performance of Faust, staged by the Timișoara Opera House, which also received the Award for Best Performance. The Artistic Design Award went to director Andrei Șerban, for the opening night of Les Indes Galantesat the Iași Opera House, a production which also received the Show of the Year Award. As regards the 'Operetta and Musical Comedy' section, the Best Direction Award went to Alice Barb, Best Male Soloist wasAlexandru Agarici, Best Female Soloist - soprano Diana Țugui, and Best Musical Comedy- My Fair Lady, produced by the 'Oleg Danovski' Opera and Ballet National Theatre in Constanța. As regards the 'Special Awards' section, the Specialist Literature Award was won by Smaranda Oțeanu-Bunea, the Musical Criticism Award went to Elena Zottoviceanu, the Best Production Design / Costume Design Award, to Mario de Carlo, while the Award for Representing Romanian Lyric Art Throughout the World went to soprano Nicoleta Ardelean. The Award for Promoting Lyric Art was received by the Sibiu International Festival of Lyric Art, represented by Ioan Bojin, director of the Sibiu Philharmonic. Cătălin Arborereceived the Innovation Award, for Donizetti's operaL'elisir d'amore, staged by the Bucharest National Opera House, the Special Award was given to the National Opera Houses Festival, organised by the Cluj-Napoca Romanian Opera House, while the Award for Promoting Romania's Image Around the World went to the Bucharest Comic Opera House for Children. Two Excellence Awards were also given, to baritone Eduard Tumagianand to ballerina Ileana Iliescu, while the Event of the Year Award was offered to 'Haricleea Darclée' International Festival and Voice Competition.
The events included into the programme of the Musical Performing Arts Week Festival will continue in Bucharest, Timișoara and Iași until 25thNovember.
Andreea Chiselev
Translated by Cristina Firoiu and Elena Daniela Radu
MTTLC graduate, Bucharest University