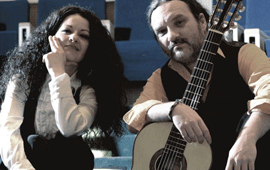 A Night of Blue Music, in the Opening of the 2012 Edition of The Guitar Hibernal
Monday, 12 November 2012 , ora 10.32

The fourth annual edition of
The Guitar Hibernal
Festival has begun. The tradition initiated by Maxim Belciug the artistic director of the programme in 2009 - offering evenings of guitar music, since the late autumn until the beginning of winter, in a warm environment, such as night time stories - continues.
This year's events will take place in the new home of the Bucharest National Library - an intimate setting, in which one can discover good books and music. Maybe this is the reason for which the organizers thought to associate sounds with words, and invited the actress Adina Cristescu and the poet Liviu Uleia to this year's edition - the musical journeys will have literary camping grounds. The 2012 Guitar Hibernal will bring us already famous artists specialized in styles such as: classical guitar and flamenco - Maxim Belciug, Cătălin Ștefănescu - as well as rising stars.
Saturday, 10th November, 2012, was the first evening of this year's The Guitar Hibernal Festival. The main theme was the melancholic music, which is suited for meditation. From Gaspar Sanz to Johann Sebastian Bach, from Domenico Cimarosa to Vicenzo Bellini, and even anonymous composers, the programme - featuring original works or transcriptions for voice and guitar - was offered by the Spanish vocalist Pilar Diaz Romero and the guitarist Maxim Belciug. Passion, contemplation, sadness - all of these feelings found their place in an evening in which the main predisposition was towards dreaming, due to the combination between the vocal rolls with the tunes of the guitar and the literary moments offered by the poet Liviu Uleia.
The first episode of The 2012 Guitar Hibernal was enthusiastically received and, most likely, the following weekly musical evenings, until 22nd December, featuring many different styles, such as chamber music, flamenco, Neapolitan folk music or the electronic one - will have the same amount of success.
Alexandra Cebuc
Translated by Valentina Banut and Elena Daniela Radu
MTTLC, University of Bucharest