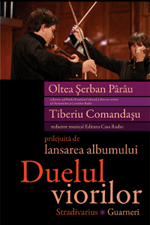 CD Release - 'Duelling Violins', at the Casa Radio Publishing House
Thursday, 15 November 2012 , ora 10.45

The artistic "confrontation" between the Stradivarius and Guarneri violins and also between the violinists Liviu Prunaru and Gabriel Croitoru, "refereed" by the pianist Horia Mihail, will be available starting on Monday, 19
th
November, 2012, on a CD called "Duelling Violins". The audience could first see this "confrontation" during the music tourn called "Violins Duel".
After the success of 2011, Radio Romania Culture and Accendo Cultural Association have organized this autumn the second edition of the National Tournament "Duelling Violins", a project that has attracted thousands of spectators into the concert halls all across the country, spectators who have come the second time to judge this artistic contest.
Now, through this new CD released at Casa Radio Publishing House, the public has the opportunity to recall the intense artistic moments of the first edition confrontation between Liviu Prunaru and Gabriel Croitoru, two great violinists who play two legendary instruments.
The release of the "Duelling Violins" album will take place at Humanitas-Kretzulescu Library in Bucharest at 6 o'clock p.m. on Monday, 19th November.
The participants of this event are: the violinists Liviu Prunaru and Gabriel Croitoru, the pianist Horia Mihail, the editor of Radio Romania Culture and the Artistic Director of Radio Orchestras and Choirs - Oltea Șerban Pârâu and the music editor of the album, Comandașu Tiberius.
"To be in this condition of competition that leads to the idea of duel is essential for an artist who, by definition, should be dissatisfied with what he has. In our case, the competition is between the performances of these musical instruments, the Stradivarius and Guarneri violins, not those of instrumentalists. If centuries have passed without announcing the winner, it was unlikely to be announced now. A nice story, with a spectacular potential, turned into reality in the autumn of 2011, when together with pianist Horia Mihail, witness and judge of this project, two violinists and two violins entered a friendly competition. They hadn't been on the same stage before. It's Liviu Prunaru, with a 1694 Stradivarius, and Gabriel Croitoru, with a 1730 Guarneri. It was basically a duelling game and the winner was the audience. The heated atmosphere of the fight, of the competition, had the attention of the public, even if the final was well known. This CD release offers the right opportunity that enables the transfer of the memory of the incendiary atmosphere in the concert hall into the privacy of your room", says Oltea Șerban Pârâu, the editor of Radio Romania Culture and ht e Artistic Director of Radio Orchestras and Choirs.

Translated by Sabina Cirnu and Elena Daniela Radu
MTTLC, Bucharest University