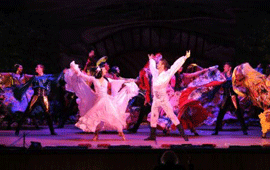 12th November, 2012 - 'Life is Beautiful' Festival
Wednesday, 14 November 2012 , ora 9.16

On 12
th
November, 2012, the 'Life is Beautiful' Festival offered among its attractions, at the National
Opera House
in Bucharest a performance of the 'Gypsy Baron' by Johann Strauss, in the view of the
Kiev Academic Operetta Theatre
directed by Bogdan Strutynskyi, the manager of this ensemble already famous in our country.
The cast included many emeritus maestros, but to be honest they didn't seem to be remarkable voices. The production is classical and the direction is adapted after the operetta that we all know. The playbill is very funny, representing some playing cards and specifying the fact that "Vittorio Monti's Czardas will ring out during the performance and the musical arrangements of both the gypsy folk song called the Painting Girl and that of the Gipsy Dance will also be included", so it was clear that extra musical moments were added to the score.
It seemed to be a stage performance remembering the fifties, certainly characterized by accuracy and a great deal of liveliness, clear, and agreeable, while being still reserved.

'Ion Dacian' Trophy'
The 4th edition of 'Ion Dacian' Trophy' took place also on 12th November, 2012, which seemed to be very severe at the end of one selection, bringing 26 teenagers from 50 competitors and around 10 p.m. were awarded the prizes.
There were many news and prizes. For example, a special prize of the jury was awarded, ex-aequo to three young soloists: Simona Băltoc, Loredana Căgâștan and Alin Stoica, a famous tenor, while the prize for the best interpretation of a performer under 20 years, went to Diana Gheorghe. Another prize awarded for the first time is the one of the syndicate of the National University of Music Bucharest which went to Ana Ciobotari, a mezzo-soprana who was also awarded the prize for vocal performance.
A prize of the 'Actualitatea muzicală' magazinewas awarded by the president of the jury, Mihai Cosma, which went to Alexandru Ștefan Constantin. The great prize, the 'Ion Dacian' Trophy' went to Alexandra Crăescu, a famous young artist who performs in the shows of the Operetta Theatre and in concerts and who really deserved this prize. It was an amazing night, with a lot of enthusiasm and prizes. We shall see who is going to have a successful career.
Anca Florea
Translated by Andreea Mesescu and Elena Daniela Radu
MTTLC, Bucharest University