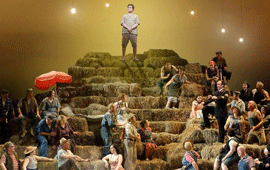 The Elixir of Love at Covent Garden
Monday, 19 November 2012 , ora 10.10

The London Royal Opera House and its international audience: this was the topic that this weekend gathered public radio producers - who are members of the European Broadcasting Union - invited by the BBC radio stations that broadcast performances of the famous lyric theatre. As part of the Euroradio season, the Covent Garden events are equally important to those at the Metropolitan Opera House in New York, the Teatro alla Scala in Milan and the Vienna State Opera and as our readers are aware, Radio Romania Music broadcasts the latest and most attractive of their productions during An Evening at the Opera radio programme each Saturday.
The opportunity to go backstage at Covent Garden is a unique and fascinating experience; since the building itself is a cultural and architectural monument of London, having a rich history since being built in 1735. It is here that the first British performance of Handel's oratorio Messiah took place; the building has been reconstructed and the interior rearranged and replaced various times; all this time the opera and ballet house has been under the patronage of Her Majesty the Queen.
Excellence, modernity and notoriety are symbolic today for the London Royal Opera House, which offers internet and cinema broadcasts in addition to its performances during the theatrical season. The European Broadcasting Union partners with Covent Garden in this endeavour to internationally promote its exceptional performances, thus reaching millions of listeners.
Friday, 16th November, the Covent Garden audience had the opportunity to watch The Elixir of Love, a production made in collaboration with the Paris National Opera which was directed by Laurent Pelly. Using humour, tenderness and the Mediterranean spirit, he brings Gaetano Donizetti's famous love story to life, which is set in a 1950s Italian village. 'I had Nino Rota and Fellini in mind for this production - the director recounts - when telling these characters' story; I unveiled their inner psychological mechanisms, their feelings and humour, trying to follow the music.'
The result was one that nearly touched perfection: exceptional soloists, experts in bel canto - the young Polish singer Aleksandra Kurzak playing the part of Adina, Fabio Capitanucci as Belcore, Ambrogio Maestri playing Dulcamara and Roberto Alagna as Nemorino, who was captivating and charming on stage. Bruno Campanella was the conductor, while the Chorus and Orchestra of the Royal Opera House had an impeccable performance. It is notable that Ștefan Pop will sing the role of Nemorino in 7th December performance.
Radio Romania Music will be broadcasting its first live performance of this season - Giacomo Meyerbeer's Robert Le Diable - from the London Royal Opera House on 15th December, radio programme which will be hosted by Luminița Arvunescu.
Alina Velea
Translated by Andrei Mihaela-Cristina and Elena Daniela Radu
MTTLC, University of Bucharest