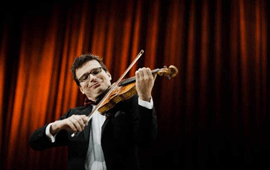 Concert on His Majesty's Anniversary, King Michael I of Romania, at the Romanian Athenaeum
Monday, 26 November 2012 , ora 14.53

The 5th edition of the extraordinary charity concert organized by Princess Margarita of Romania Foundation on the occasion of His Majesty's anniversary, King Michael of Romania, was held at the Romanian Athenaeum on Thursday, 25th October. After the traditional Royal anthem, Her Royal Highness, Princess Margarita of Romania, spoke about Young Virtuosi programme to which the raised concert funds were alloted, a programme through which The Foundation offers both study and mentoring grants and opportunities for promoting young Romanian musicians and fine artists who are at the beginning of their career.
The concert protagonist this year was the violin player Alexandru Tomescu, accompanied by the Stradivarius Ensemble conducted by Gabriel Bebeșelea, and the programme was dedicated to a new perspective on Antonio Vivaldi's The Four Seasons and Astor Piazzolla's The Four Seasons of Buenos Aires, the latter being the arrangement of the Russian composer Leonid Desyatnikov. The idea of mirrored interpretation of the two cycles composed almost at a 250 year distance in time was devoted to the well-known violin player Gidon Kremer and his ensemble Kremerata Baltica. The violinist Alexandru Tomescu describes this version as a highly interesting experience. 'Although each of the two works is temporally and stylistically at opposite poles; there are many aspects that bring them together. Piazzolla inspires himself from Vivaldi's works, but suggests a totally new perspective pervaded by Argentinian rhythms full of passion and colour. The two works are an excellent choice for a festive evening, as the day of 25th October is, the day when we celebrate His Majesty's birthday, King Michael,' says the violin player.
Alexandru Tomescu inspiringly sensed the moments when the splendid sound of his Stradivarius Elder Voicu violin had to stand out as a soloist or to be integrated into the ensemble and the varied colours and dynamic and agogic accents seemingly made the audience hold their breath until the last musical note. For a moment, we had the feeling that Alexandru Tomescu , Stradivarius Ensemble and the talented conductor Gabriel Bebeșelea managed to stop the passage of time during the concert, although the programme actually suggested us a swift succession of the seasons. In a few words, a musical evening full of meaning, refinement and elegance, dedicated to His Majesty's anniversary, King Michael I, and held for the benefit of Young Virtuosi programme, defined as a model in society by Her Royal Highness. 'The programme shows that each of us can change destinies. Through the power of example, the programmes encouraged by Princess Margarita Foundation support the development of Romania. The Foundation carries on my ancestors' tradition in education and culture,' stated Her Royal Highness Princess Margarita of Romania.
Andreea Chiselev
Translated by Voicu Diana and Elena Daniela Radu
MTTLC, Bucharest University