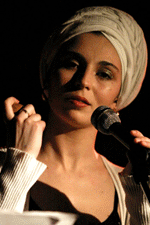 The Tuesday Evening Season at the Romanian Athenaeum
Wednesday, 28 November 2012 , ora 8.49

Four evenings of jazz are included in the 2012 - 2013 season at the Little Hall of the Romanian Athenaeum. On 27
th
November, the
Tuesday Evening Season
series brought
Luiza Zan
and the contrabassist
Pedro Negrescu
in front of the jazz lovers. "A rebel jazz singer" - that's how the critics have labeled Luiza Zan - who impressed the audience with a calm, rich and vivid voice, singing forcefully and slaloming spectacularly with the sounds in the grave and acute registers. The audience present at the Little Hall of the Romanian Athenaeum enjoyed a unique evening presented by Luiza Zan and Pedro Negrescu, since the two artists will not perform anymore in the same vocal - contrabass formula in the near future. They presented the plays on their first album live: "The programme we performed tonight is also to be found on the CD. Not exactly the same, but the plays are in the same order and abide by the same vocal - contrabass formula." (Pedro Negrescu)
Like Water is the title of the album launched by the contrabassist Pedro Negrescu and Luiza Zan and, implicitly, of the recital held by the two - a warm, passionate performance, ranging from jazz plays to traditional songs, focusing on the main existential leitmotifs: time, earth, roots, water and love.
"This programme was the reinterpretation of the plays on the album we launched in October this year. We've tried to keep the plays structure and stick as close as possible to the album version, although there they have been totally improvised. It was a pretty difficult mission for Pedro to keep the contrabass arrangement almost identical to that on the album." (Luiza Zan)
The twelve plays interpreted by Luiza Zan and the contrabassist Pedro Negrescu have taken a free form and have been masterly offered to the jazz lovers who have filled up the Little Hall of the Romanian Athenaeum.
Jeanine Costache
Translated by Mădălina-Elena Marin and Elena Daniela Radu
MTTLC, Bucharest University