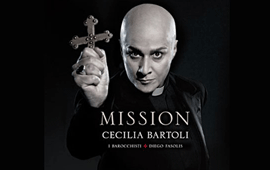 Cecilia Bartoli's Mission
Monday, 26 November 2012 , ora 9.02

Cecilia Bartoli's new album
Mission
, released this autumn, is a portrait of Agostino Steffani (1654-1728), an Italian composer that the public does not know very well, about whose music the mezzo-soprano says that it is "the missing link from the artistic connection between Monteverdi, Carissimi, Cavalli and the great Baroque composers - such as Vivaldi, Handel and even Bach".
Just like Cecilia Bartoli's other projects, Mission is not only a choice release, but also an entire marketing arsenal which was very well thought-out and must have been very costly, as well; it comprises a compact disc accompanied by a booklet of no less than 173 pages and eccentric photographs, where one can see Bartoli in the role of Steffani, a DVD of Olivier Simmonet's 'cinematographic vision' - shot in Versailles - and last but not least a detective novel - The Jewels of Paradise - written by Donna Leon and inspired by the discoveries regarding the life of Agostino Steffani that Cecilia Bartoli has made.
One is thus flooded with these products that draw their essence from his adventurous life, even before being able to listen to one of his arias. We may definitely say that Agostino Steffani was not a random choice made by Cecilia Bartoli and her record label to be promoted as a forsaken genius; Steffani was not only a talented composer, but also a diplomat, a politician, a priest and a missionary - hence the connection to the project's title - and, according to Cecilia Bartoli, likely to have been a castrato. That must make him a very interesting character.
The Mission project also has a road show which brought the Italian artist to the stage of the Cologne Philharmonic last week, on 22nd November. Whereas on the compact disc she is accompanied by the I Barocchisti ensemble, conducted by Diego Fasolis, Cecilia Bartoli sang together with the Basel Chamber Orchestra in Cologne, led by violinist Julia Schröder.
The evening schedule mixed arias from operas such as Niobe, Regina di Tebe, La Libertà Contenta or La Superbia d'Alessandro with instrumental numbers from operas by Agostino Steffani, as well, which were all performed impeccably by the musicians in the Swiss ensemble.
Cecilia Bartoli sounds the same both in concert halls and studio recordings, which is rather rare - an artist with an incredibly wide range, with a sometimes frightful agility, fury and tenderness, rhythmic and intonational precision, great musical intelligence and who loves singing. Her mission of sharing magical moments with us goes on…
We thank the press office of the Cologne Philharmonic for the support.
Irina Cristina Vasilescu
Translated by Irina Borțoi and Elena Daniela Radu
MTTLC, Bucharest University