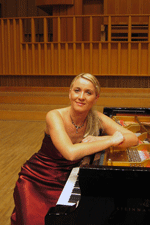 Polish Pianist Beata Bilinska, the National Radio Orchestra and Conductor Horia Andreescu
Monday, 3 December 2012 , ora 14.40

In December music lovers will have the chance to attend amazing concerts at the Radio Hall in Bucharest, which include Christmas carols and songs, and feature special guests from abroad, as well as Romanian artists returned home especially for the Romanian audience.
The series of events scheduled for December will start at 7 p.m. on Friday, 7th December, with the concert given by the National Radio Orchestra, organised in collaboration with the Polish Institute in Bucharest, and featuring Polish-born pianist Beata Bilińska, who has distinguished herself during the numerous concerts she has given all over the world. The programme of the concert conducted by Horia Andreescu, one of the most highly acclaimed Romanian conductors, includes novel works, less frequently performed in Romania.
The concert will start with the orchestral work Scoarțe, by the Romanian composer Mihai Moldovan, which was awarded the 1970 the Prize of the Romanian Composers and Musicologists Union. The programme will continue with Richard Strauss' Burleske for Piano and Orchestra in D Minor, a fantasia with humorous tones, which sticks upon the Bucharest audience's memory thanks to the remarkable performance given at the beginning of the 1960s by legendary pianist Sviatoslav Richter, alongside conductor George Georgescu, the recording being kept in the Golden Sound Archive of the Romanian Radio Broadcasting Company. The evening will end with Rachmaninoff's Symphonic Dances, a work with strong Romantic influences, performed for the first time in Philadelphia, in 1941.
Polish pianist Beata Bilińska will return on stage at 7 p.m. on Saturday, 8th December, , in order to give an extraordinary recital including Fryderyk Chopin's Ballade No. 1 in G Minor, four of the famous composer's mazurkas, Tarantella in A-flat Major Op. 43, Andante Spianato and the Grande Polonaise Brillante in E-flat Major, as well as preludes by Polish composer Karol Szymanowski, and Sergei Rachmaninoff's Piano Sonata No. 2 in B-flat Minor. This recital is also organised in collaboration with the Polish Institute in Bucharest.
For further information on the 2012-2013 season of the Radio Orchestras and Choirs, please visit orchestre.srr.ro.
Tickets are available on www.bilete.ro, at the Romanian Post Offices marked 'Bilete.ro', as well as at the Radio Hall box office.



Translated by Cristina Firoiu and Elena Daniela Radu
MTTLC graduate, Bucharest University