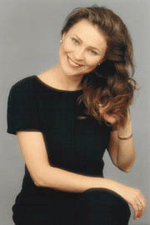 Gala Concert Performed by Ruxandra Donose at the Romanian Cultural Institute in London
Thursday, 6 December 2012 , ora 9.30

She interpreted the role of Carmen at the English National Opera on Tuesday (4
th
December 2012). This evening (Thursday, 6
th
December) she comes on stage again to seduce Don Jose. Between these performances, Ruxandra Donose decided not to spare her voice and she did not refuse the invitation to perform at the Romanian Cultural Institute. Ruxandra Donose chose some Romanian musical creations by George Enescu, Nicolae Bretan after she gained the admiration of the audience all around the world with well-known arias. "I really have the chance to perform Romanian plays and that's why I take advantage of every occasion I have to do this. It's a wonderful joy to be able to perform in Romanian; it's a different feeling and in the future I hope to do this more often. "
Ruxandra Donose
">The audience has been delighted with what they've heard and I had one more reason to be grateful because by my side, on the left there was the soprano Nelly Miricioiu, and by my right the pianist Alexandra Dăriescu.
"Both Ruxandra and Sergiu have something in common: that Romanian sensitivity that I remember nostalgically and that I see less nowadays. No matter what the reasons are, I am sad when I see that we lose our identity, the joy of being Romanians and we fail to admit that we are Romanians with various gifts inherited from our grandparents and our great -grandparents. I have discovered that these two children have it - they are children for me - that fortune of the soul characteristic to the Romanian people, and this impressed me the most. " - Nelly Miricioiu
"It was a lovely night and an amazing programme. The musicians singing and playing this evening were wonderful. I enjoyed a lot the fact that the programme - addressing an audience of music lovers who came very gladly to the Institute - was diversified. "
Alexandra Dăriescu
"It's easier to perform on a big stage in front of an audience that you practically don't know than to be with your audience in the same room. It's definitely harder when you are by yourself on stage without any costumes, lights or any orchestra pit to divide you from the audience. But, at the same time, it's more satisfactory because there is nobody between you and the audience, communication being thus created, which if accomplished is uplifting and fulfills the role of my profession. "
Ruxandra Donose
It wouldn't be right to end this interview without saying who was the pianist that accompanied Ruxandra Donose. Sergiu Tuhuțiu is a young man who studied in London and who proved his talent in front of the English audience playing in a concert hosted by the St. Martin Cathedral and dedicated to all the young talents in Romania. He met Ruxandra Donose a few days before the concert at RCI, but it's certain that the impression she gave will remain in his memory for a long time.
"She seems to be a person who doesn't want to exaggerate with anything in her daily life, who doesn't want to be ostentatious or behave primly. She is a person in which you have to discover that special talent, that's very deep. The moment she enters the stage, she externalizes everything through music. And she externalizes it - this is the most beautiful part - not in a selfish, personal way only for herself, but she shares it with you, she takes you by your hand and doesn't let go. And this is something that you rarely discover. "Sergiu Tuhuțiu
Dan Vasiliu Radio Romania correspondent in London
Translated by Andreea Mesescu and Elena Daniela Radu
Bucharest University, MTTLC