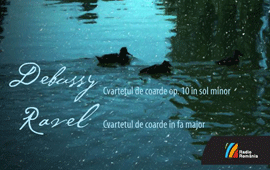 The Voces Quartet - the Chamber Group's Latest CD Recorded and Released by the Radio House
Thursday, 6 December 2012 , ora 9.34

The latest release recorded by the Radio House re-joins the cream of the crop of all times - Claude Debussy and Maurice Ravel - and a chamber group which represents the benchmark for the contemporary interpretative art: The "Voces" String Quartet.
The musical compositions of the two illustrious and innovative musicians celebrated in 2012 - Debussy's 150th birthday and Ravel's 75th death anniversary - are rendered and revived by four artists from Iași, members of the "Voces"chamber group of the Romanian Radio Broadcasting Company (Bujor Prelipcean - violin I, Anton Diaconu - violin II, Constantin Stanciu - viola, Dan Prelipcean -cello).
The anniversary album released by the Radio House contains Claude Debussy's The String Quartet op.10 in G Minor and Maurice Ravel's The String Quartet in F Major which were recorded by The Voces Quartet in 2002. The musicologist Grigore Constantinescu wrote a few lines in the booklet: "We are given the opportunity to revel in these two masterpieces belonging to the chamber music chronicles which are the acme of perfection rendered by the string quartet; all this thanks to these renowned artists who make history. One could say that the 20th century Impressionism lingers before and after them in such an intense and compelling way that crowns the magnitude of Debussy and Ravel."
The Voces Quartet's CD: Debussy, Ravel is released during their recital's interval held at The Concert Hall of Radio Romania at 19.00 on Tuesday, 11th December, 2012.
See more details on www.edituracasaradio.ro

Translated by Sorina Cimpoeru and Elena Daniela Radu
MTTLC, University of Bucharest