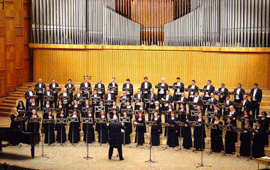 A Special Night of Songs and Slav Carols under the Interpretation of the Academic Radio Choir
Wednesday, 5 December 2012 , ora 9.36

The suprising events during the gift giving month keep going on at the Radio Hall with the special concert offered at 19:00 Thursday, 13
th
December by the
Academic Radio Choir
; an amazing musical joruney through the world full of charm of the Slav soul, religious scores and Christmas carols that will delight the audience. With the title, from the
Music of the Slavic Nations
, the itinerary will pass through Russia, Poland, the Czech Republic, Serbia, Croatia, Bulgaria and Ukraine, the scores being written by famous musicians such as Tchaikovsky, Rachmaninoff or Dvoűák, but also by known local musicians.
The Slav world and the peaceful and religious atmosphere before the holidays will be recreated at the Radio Hall by the Academic Radio Choir conducted by Dan Mihai Goia. Simona Săndulescu-Popovici will play the harmonium and the soprano SvetlanaSîcencova will be the soloist of some musical pieces performed during the evening. The whole event is dedicated to the International Day of the Chorus Cant.

For further information on the 2012-2013 season of the Radio Orchestras and Choirs, please visit orchestre.srr.ro.
Tickets are available on www.bilete.ro, at the Romanian Post Offices marked 'Bilete.ro', as well as at the Radio Hall box office.

Translated by Andreea Mesescu and Elena Daniela Radu
MTTLC, Bucharest University