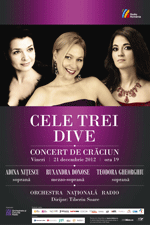 'THE THREE DIVAS' - an Extraordinary Christmas Gala at the Radio Hall
Wednesday, 12 December 2012 , ora 9.46

Red and golden, elegance and glitter are just some of the things that come to mind when thinking of the special events dedicated to the festive season. Mezzo-soprano Ruxandra Donose and sopranos Adina Nițescu and Teodora Gheorghiu - three remarkable voices, three lyric artists who have performed at the world's most prominent opera houses or concert halls, who have been awarded international prizes and who have sung alongside the greatest operatic soloists in Romania and abroad - will return to Romania in order to offer the audience an extraordinary Christmas concert: 'The Three Divas'.
At 7 p.m. on Friday 21st December, the divas will sing arias, duets and overtures from famous operas by Rossini, Verdi, Saint-Saëns, Bellini, Donizetti, Puccini, or Wagner alongside the National Radio Orchestra, led by Tiberiu Soare, one of the most highly acclaimed young Romanian conductors. The concert will be held at the Radio Hall in Bucharest, and it will also be broadcast across Romania by Radio Romania Culture and Radio Romania Music, as well as online, at www.radioromaniacultural.ro and www.romania-muzical.ro, giving the audience the chance to enjoy the festive atmosphere preceding the holidays.
You will find further details about this extraordinary event at www.celetreidive.ro.
For information on the 2012-2013 season of the Radio Orchestras and Choirs, please visit orchestre.srr.ro.
Tickets are available on www.bilete.ro, at the Romanian Post Offices marked 'Bilete.ro', as well as at the Radio Hall box office.

Translated by Cristina Firoiu and Elena Daniela Radu
MTTLC graduates, Bucharest University