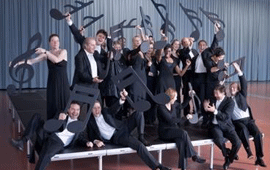 The Mozart Festival Still Impresses
Wednesday, 12 December 2012 , ora 11.04

After the two days of contest for quartets, a competition interlude lifted us up to heaven on Monday, 10th December; it was a nucleus of the Camerata Salzburg who played a few divertissements that we thought familiar. In fact, they spoke them, with the elegance of the 18th century salons, but without the affectation of that age. I cannot wrap up the art of these instrumentists in just a few words, I have to choose the most striking element, which was the agogics-dynamics complex, an imperceptible rounding of the end of a sentence, a more poignant chord, an Auftakt, rather pulled back, a few essential trifles, all of these bringing a lot of satisfaction. Eight remarkable musicians, the chord quintet, an oboe, two horns and three divertissements with catalog numbers 138, 251 and 334 conveyed a Mozart that rises as if by magic, like heroes in fairy tales, who grow up much faster than others.
The next day, namely on Tuesday morning, the artists, having come back down amongst the people, spoke with a lot of modesty to those who attended about their most beloved mentor, Mr Sandor Vegh, the musician under whose ethereal supervision this year's festival is taking place. They also spoke about their work, about dedication, after all, because these people have long since stopped living for themselves. Prof. Adriana Bera, the President of the Romanian Mozart Society, hosted the meeting:
Do you consider that the Camerata Orchestra has a specific sound owing to Mr Sandor Vegh's vision?
Cellist Dana Micicoi: I think so, when he was still alive. Now we have had Mr Roger Norrington after Mr Sandor Vegh, and he is the antipode, he has no vibrato, he has a different tradition. But I think he has been counterbalancing, and you, as a musician, can choose what you want to do. You are not the slave of a direction, of a single vision.
First violinist Diane Pascal: Mrs Micicoi says that everybody has their own idea of sound and everyone understood in their own way what Mr Sandor Vegh asked of them, but if it could synthetise it, it would be a sound with a certain core, with its own potential. One of the traits of sound was the diversity in colour and the way it changed, that is, these lights and shadows, these contrasts that are the hallmark of Mozart's creation. But it is more than that, he also explains how these things are achieved.
Mugurel Scutăreanu, Radio Cluj
Translated by Irina Borțoi and Elena Daniela Radu
MTTLC, Bucharest University