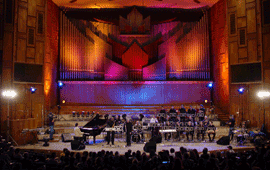 Radio Big Band Christmas Concert
Monday, 17 December 2012 , ora 16.35

The series of special concerts scheduled at the Radio Hall, dedicated to the winter holidays and which have pleased and will keep pleasing hundreds of people until Christmas, will end at 4.00 p.m. on Saturday, 22ndDecember, with the concert held by the Radio Big Bandconducted by Ionel Tudor together with special guests.
Five decades ago, in 1949, the entertainment events acquired a professional representation in radio shows with the founding of a musical ensemble, today's BIG BAND of the Romanian Radio Broadcasting Company. Important maestros, conductors and composers, such as Sile Dinicu, Cornel Popescu, Ion Cristinoiu and Ionel Tudor have been in charge of the ensemble. At the same time, recordings have enabled the building of a great composition and interpretation fund, as the Big Band contributed with concerts, collaborations on TV shows or by taking part in festivals (especially those in Mamaia and Brașov), to the artistic prestige that the band has acquired. The concert, entitled 'Gifts for You', will feature Nico and Vlad Miriță, Marius-Florin Văduva, the Acapella Choir (conductor: George Miron), the Sunetul Muzicii children's choir (conductor: Cristina Manoliu-Săvulescu), the dance company Pasitos (conductor: Paul Șerban), the Semper Quartet, the National Folklore Orchestra Valahia (conductor: Marius Zorilă), the RO-mania band, folk music singers Mioara Velicu, Lavinia Goste, Ionuț Sidău, Petrică Mâțu Stoian, Marioara Man Gheorghe and the Perinița Folk Ensemble.
The event is organized by the National Radio Orchestra, the Radio Chamber Orchestra and the Radio Academic Choir, in collaboration with the Ilfov County Centre for Preservation and Promotion of Traditional Culture and the Ilfov County Council. Invitation-only concert.
For any other information on the 2012-2013 season of the Radio Orchestras and Choirs, please access orchestre.srr.ro.

Translated by Irina Borțoi and Elena Daniela Radu
MTTLC, Bucharest University